Cornyn, Van Duyne Bill to Help Small Businesses Navigate Federal Regulations Signed Into Law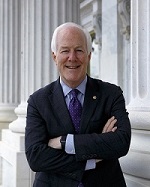 U.S. Representative Beth Van Duyne (TX-24) and I recently released the following statements after the One Stop Shop for Small Business Compliance Act, which requires the Small Business Administration to create a centralized website for small-entity compliance guides, was signed into law:  
"Small business owners have enough administrative tasks on their plate without the added burden of tracking federal regulations that are continually updated," I said. "By creating an easily-accessible and comprehensive website, this bill will ease the regulatory burden on small business owners and reduce the amount of time they spend navigating red tape, and I am grateful to Rep. Van Duyne and our colleagues in Congress for helping get this legislation across the finish line." 
"Now more than ever, Congress must pursue commonsense legislation that allows small businesses to thrive," said Rep. Van Duyne."Often times, small businesses are unaware of their new responsibilities as federal laws are updated. Our bill will consolidate the resources necessary to navigate the seemingly never-ending web of bureaucratic red tape. Passing this bill was a win for small businesses and I enjoyed working with Senator Cornyn to bring this commonsense legislation to light."
Background:
Current law requires federal agencies to publish small business compliance guides for certain regulations. However, these guides are housed on different agency websites, making it extremely difficult for small business owners to find and keep track of new requirements. The One-Stop Shop for Small Business Compliance Act will create a centralized, online "one-stop shop" for small business owners to find this information, including the contact details for appropriate agency staff who can provide regulatory assistance, through the Office of the National Ombudsman.