Deception 101: Bogus Pay-to-Play "Endorsements"
In my capacity as a member of the State Republican Executive Committee (SREC), I keep my eye out for things that would seem to contradict policies of the Party. One policy is that while individual members are free to endorse or not as they see fit, the Party will not spend Party resources in intra-party contests. It is even in our by-laws that we'll not do so, which enables the Chair or the parliamentarian to rule such attempts out of order if they happen.
In at least two cases that have been brought to our attention, slick mailers have been sent out that give one the impression that they are "official" and come from either the "Harris County Republicans" or the "Texas GOP". Investigation of these has revealed that similar private, non-affiliated-with-the-party PACs exist in other counties.
These are not only NOT official; they don't even have bona fide candidate vetting panels or even conservative individuals determining the bogus "endorsements". Pure and simple, they are advertising wrapped up and clearly intended to deceive the voters. These same fake mailers even purport to be endorsing the conservatives in the races (see images from the mailers below).  Ironically, though their very purpose is to fool the voters, the one below even says "don't be fooled".
How do I know they are FAKE and DECEPTIVE? It is simple. Having served in activist political circles for a couple of decades and worked as volunteer more than that, and serving on the Texas SREC, I KNOW THAT THE PARTY ORGANIZATIONS DO NOT ENDORSE IN THE PRIMARY. They don't even do so when one of the candidates is absolutely abominable or even if they are a Democrat running in the GOP primary!
Several years ago when this deceptive practice surfaced, the Party even renounced it formally.  In the Press Release, the Republican Party of Texas stated in part:
"A group calling itself the "Texas GOP PAC" recently sent out a mail piece that includes a sample ballot [and] endorsed certain candidates.  This group is blatantly attempting ot mislead voters by adopting a confusingly similar name to the State Republican Party. The Republican Party of Texas is not associated in any way with this group or its deceptive mail."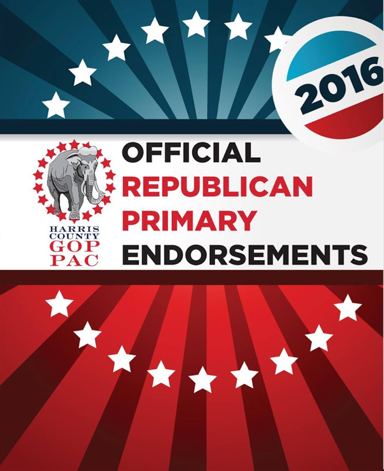 The News Release went on to describe the trial lawyers behind the bogus mailer, and concluded that they were "disappointed that this group has chosen to engage in this sneaky attempt to mislead voters."
More recently, the Harris County Republican Party passed a resolution condemning such practices, describing them as "pay-to-play". The resolution "condemns the practice of 'pay-to-play' endorsements due to their corrosive and corrupting impact on the electoral process".
Inspections of the financial records of these PACs reveal that they are nothing more than sham advertising efforts, where candidates pay to have the ads printed and mailed. In any other business those claims would be considered fraudulent or corrupt practices...because they are.
Just a few days ago, in an apparent reaction to the proliferation of these fake mailers, the Harris County Republican Party released a letter from their chief legal counsel, reproduced below.
I call on all groups, especially candidates themselves, to immediately cease and desist in these desperate efforts to confuse and otherwise deceive her very own constituents.
Last, the HCRP Resolution authored by Precinct Chair Greg Aydt is reproduced below, just in case other county or state organizations want to use it as a model.