Denton Town Hall Circus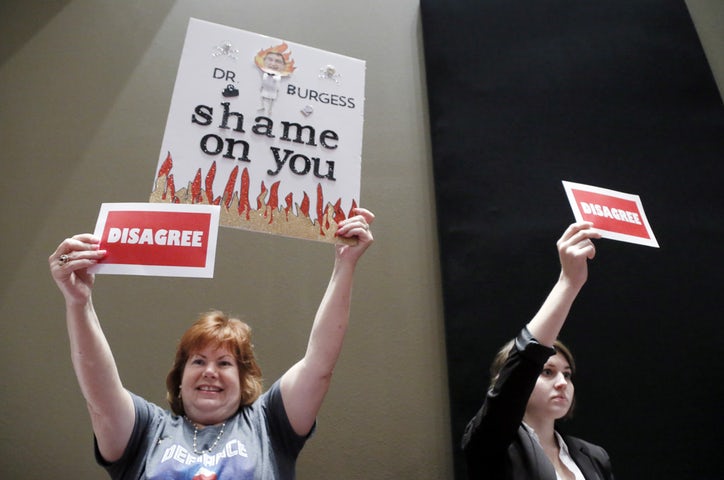 Unlike many congressmen who are canceling Town Hall Meetings, Congressman Michael Burgess continues because he views them "as part of his obligation and communication plan." As a servant leader being totally accountable to his constituents, he stands for the full duration of the meeting without notes, giving participants unlimited time, answering a wide variety of questions, tolerating their interruptions of his answers, and enduring their attacks and confrontations with respect and courtesy. This is not reciprocated by attendees. "Indivisible Denton" purports that they "feel proud that the Denton community has been really respectful at town hall meetings." Sarah Gamblin of "Indivisible Denton" stated, "Denton distinguishes itself by trying to stay civil but assertive."[i]
"Civil but Assertive" Disintegrates 
The Town Hall meeting of June 18, 2018 had all the hallmarks of a coordinated effort to discredit Congressman Burgess in hopes of eliciting a sound bite. Using the left's typical Alinsky tactics that the action is in the reaction, participants insulted, harassed, and spewed hostility and venom akin to the rivers of rock, ash and gas that erupted from the Fuego volcano in Guatemala. His respectful, measured, intelligent responses further enraged the combatants as their insults intensified with the frustration of their own futility. This assembly replicated a three ring circus with a ring master brandishing a green "Agree" sign for the clapping seals to clap and bark approval at an approved insult and then a red "Disagree" sign to denigrate Congressman Burgess' responses. The only thing missing was the beach balls for the seals to balance on the end of their noses.
Pontification, Temper Tantrum
The pontification of one self-proclaimed Bible theologian knew no boundaries as he characterized Dr. Burgess' narratives as "disgusting and despicable". His arrogance and condescension radiated hostility under the guise of "loving our neighbor as ourselves "as he admonished Congressman Burgess to be a "witness to his faith" by "acting, voting and doing Jesus" on immigration issues.
A second speaker who did not identify herself was "morally outraged "that Congressman Burgess had not criticized President Trump for "making nice with Putin and Kim Jong Un ". Congressman Burgess' response to her question on "where was his moral outrage?" intensified her anger when he said he would "reserve his moral outrage for nuclear war". Amidst cheering, she shrieked that his moral outrage was like a Chinese menu. Her frenzied temper tantrum continued yet Congressman Burgess maintained his respectful professionalism.
Risk to A Civil Society
Our founders have "warned that a society too far gone on political obsessions and animosities would put its ability to function at risk. We're just about there, unable or unwilling to let political normalcy exist."[ii] If this is "civil but assertive", we are in a free fall from what was once a civil society.