Everything's bigger in Texas - Including Government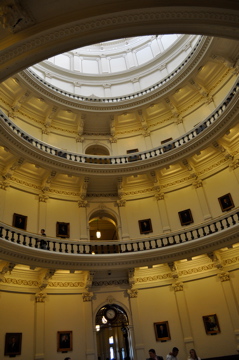 Think about the things that Texas is known for. Oil, trucks, cowboys, cows and big city life. Also, a gun loving governor and a booming economy. Oh, yeah and the myth that everything is bigger in Texas, right? We've got big trucks, big hair and...big government? Big government, you say? Sadly, yes.
Back in 1999, the Texas Legislature signed a bill into law that granted a panel of doctors, appointed by the hospital in which they work, to help with end of life directives. What does that mean, exactly? Well, if you wanted to go all Sarah Palin, then, I guess you could call these death panels.
As we all know, the 83rd legislative session of the Texas house is coming to a close. This year proved to be a fairly quiet one, until now. The current legislative body has apparently been working on drafting the Texas Advance Directive Act, or what they would have you believe is an improvement to the law already in place. My state representative, Bill Callegari happens to be one of the co-authors and he is down right proud of his work on this bill, according to his staffer, Steven, Representative Callegari feels it would be 'morally wrong' not to pass this bill. They are selling this as an upgrade, if you will. SB 303 and HB 303 are up for consideration, and from my own personal research, along with others, this bill is just as bad as the current law. Hey, don't take my word for it, take a look for yourself. Texas Right to Life is an organization that believes that this bill should not be passed in it's current form. You can even read their own pro-life stance here. I would tend to agree with their philosophy on life. Life is sacred. It's so sacred that it's enumerated in our Declaration of Independence, "Life, liberty and the pursuit of happiness."
Also for your viewing pleasure, I have a side-by-side comparison of the current law and the proposed bill and Texas Right to Life's stand on the bill.
There are other groups here in Texas that have raised some legitimate concerns about the passage of this bill and Texas Home School Coalition is one of them. You can read their own blog about this bill here. This bill could also prove to hinder the rights of parents to decide their own child's fate when end of life decisions need to be made. That's a sobering thought.
This is why it's so important to stay active and vigilant when it comes to government on all levels, whether it be local school boards and mud districts, our state government, or all the way to the nations capitol. It's called tyranny 'creep' for a reason, ya'll.
The folks over at Texas Home School Coalition have put together another blog post as to why this bill should NOT be passed. Please take a moment to read the information and call committee chairwoman Lois Kolkhorst at (512) 463-0600 and tell her to stand firm and vote no on this potentially harmful to parental rights bill.