Fighting Against Human Trafficking at the Border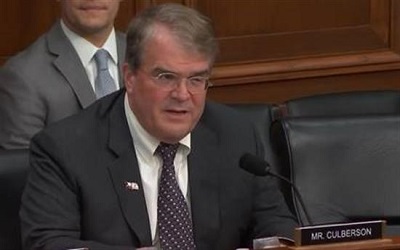 As you may be aware, Texas has roughly 300,000 human trafficking victims, including nearly 79,000 minors who have been forced into prostitution or other forms of sex trafficking. Sadly, Houston has the highest number of trafficking victims nation-wide.

One of my top priorities in Congress is to crack down on human traffickers at home in Houston and to fight the scourge worldwide. This past year, I worked to ensure there is over $600 million in the 2018 Commerce, Justice, and Science (CJS) bill to fight human trafficking, fund grants to help stop violence against women, and support missing and exploited children programs. 

Since taking over as Chairman of CJS, I have increased grants to fight human trafficking by 82 percent, and I have also advocated to increase Homeland Security Investigations funding to combat this major problem.
Earlier this week, I had a chance to speak with Customs and Border Patrol (CBP) Commissioner Kevin K. McAleenan to ensure legitimate trafficking victims are getting the help they need. 

Click here to watch our exchange during the hearing for the U.S. Immigration and Customs Enforcement (ICE) and CBP Fiscal Year 2019 budget.
[excerpts]
"…the human problem is particularly heartbreaking, the drug problem is catastrophic and heartbreaking, but human slavery still exists in this country and trafficking of human beings is a terrible problem. And, unfortunately, Houston, Texas is one of the hubs of human trafficking in the country…" WATCH

"…So, I wanted to ask, Commissioner McAleenan...what is your department doing to restore the integrity of the asylum system to ensure that legitimate trafficking victims who need our help are assisted, while those who are looking to exploit the system by illegally crossing the border and pretending to be in fear of persecution are detained swiftly and removed swiftly? What's being done to end the practice of catch and release at the border?" WATCH
Watch the full hearing here.

Read about the latest anti-trafficking bill I supported in Congress here.