The First Steps Toward Repeal and Replace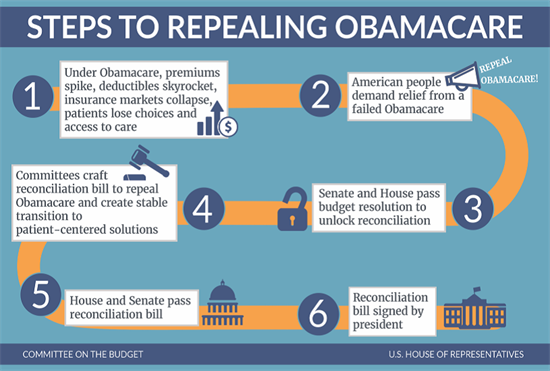 Last week, Congress took the first steps forward in repealing and replacing the disastrous Affordable Care Act. The House and Senate have both passed a budget resolution, which sets forth a plan of attack to transition to a patient-centered health care system that gives Americans access to truly affordable care.
Six years after the Affordable Care Act was implemented, many have lost their existing health insurance policies, have seen their health care costs rise, or waited longer to see a primary care doctor. The average annual family premiums have increased by nearly $4,300, an increase four times larger than previously expected.
It's time for a change, and Republicans are working on replacement measures focused on quality patient care and affordability. The House's proposal is A Better Way, and the Senate has developed the CARE Act to replace Obamacare. The House intends to repeal and replace the Affordable Care Act simultaneously to prevent a shock to the health insurance industry and provide a smooth transition for the American people.
The budget blueprint Congress passed last week instructs committees with jurisdiction over Obamacare to develop legislation that repeals the Affordable Care Act. This procedure, known as reconciliation, prevents the Senate minority from filibustering the bill and allows the Senate to pass the legislation with 51 votes.
Last week was the first step to fulfilling a promise to the American people to provide health care at lower costs so that everyone can receive top-notch care when they need it most.
It is an honor and privilege to represent you and Texas in the United States House.