The Hill Report: Week of May 7 - 11, 2018
As a result of Republican leadership we have been able to roll back thousands of pages of Obama-era regulations. We have effectively used the Congressional Review Act process to cut through eight years of red tape that strangled our economy and shackled American businesses. This week we sent the 16th CRA to the President's desk that provides much needed stability to the auto lending process that has been stopped by theCFPB. Since its inception I have fought to dismantle this organization because it empowers faceless, unelected bureaucrats to make decisions that should be left to Americans. I have voted time and time again to strip away their power and return it to where it belongs – the American people. To learn more about our success in reducing unnecessary regulations, click here.
Constituent Meetings in Washington 
AIPAC 
This week, I was delighted to meet with North Texans representing the AIPAC National Council to discuss our critically important bilateral alliance with Israel. Specifically, we discussed two important pieces of legislation, H.R. 5132, which would impose tougher sanctions on Iran's Revolutionary Guard Corps, and H.R. 5141, would streamline bilateral defense and security assistance for Israel. Furthermore, as part of the fiscal year 2018 omnibus funding package, I was also proud to support strong funding for security assistance for Israel as the country continues to face the threat of incoming missile attacks and greater uncertainty in the region. Throughout our history, theUnited States has always come to the aid and defense of our allies, and we will do thesame for Israel. As your Member of Congress, I will continue to work tirelessly to ensure that the United States remains committed to the security of the Israeli people.
Congressman Sessions with Kenny Goldberg
Bryan/College Station and Waco Chambers of Commerce 
On Wednesday I met with Texans representing the Bryan/College Station, Texas Chamber of Commerce to discuss the work they are doing to promote small businesses and professional leaders in Texas. With a background in the private sector, I understand the need to fight government overreach and utilize the market-driven solutions to effectively promote our free enterprise system. Simply put, when local Chamber's and small businesses succeed, our country succeeds; and Congress should promote policies that help our local economies continue to grow and prosper. As your Member of Congress representing North Texas, I look forward to continuing to support Texans and our local community leaders.
Congressman Sessions meeting with members of the Waco Chamber
National Brain Tumor Society 
On Tuesday I was delighted to meet with representatives from the National Brain Tumor Society, including a local fire chief and a city secretary. We discussed theimportance of funding NIH medical research and the issues surrounding clinical trial participation. My colleagues and I recently gave NIH a $3 billion funding boost, and we must continue to support the NIH in its efforts to improve health outcomes.
Congressman Sessions meeting with constituents representing theNational Brain Tumor Society
Cardiologist 
Cardiologists specialize in one of the most vital organs---the heart. They undergo extensive and arduous training to advise on and treat ailments from heart failure to disease of the arteries. It was a pleasure meeting with several cardiologists from aroundthe country to discuss how federal policy is impacting their practices. From Dallas to New Jersey, our country's physicians are overburdened by reporting and regulations. As a advocate for physicians, I am fighting to let our medical professionals spend less time with unnecessary paperwork and more time caring for their patients.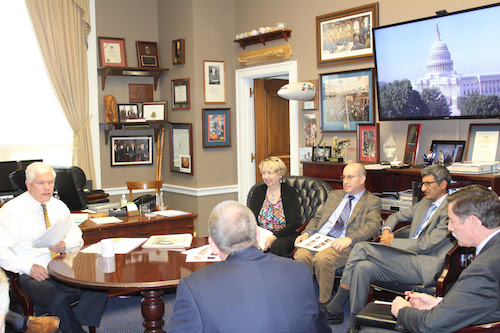 Congressman Sessions meeting with North Texas cardiologists
American Association of Orthodontists 
On Wednesday, I was delighted to meet with the American Association of Orthodontists (AAO). We discussed the detrimental high cost of insurance for employees on small businesses and the need to reverse the Affordable Care Act's unnecessary annual cap on contributions to flexible spending accounts (FSAs). Many patients across Texas depend on FSAs to pay for healthcare services and, quite often, these are not covered by insurance – these include doctor copayments prescription drugs, and dental services. I also learned that orthodontists are graduating today with an average of $428,150 in student loan debt. Having so much student loan debt discourages some from enteringthe profession or even opening a practice day 1 out of residency. As Congress debatesthe Higher Education Act (HEA), I remain committed to balancing the financial interests of higher education students with conservative solutions to address the rising cost of education.
UT Dallas 
This week I was pleased to meet with folks representing the AVS Science and Technology of Materials, Interfaces, and Processing, including Dr. Amy Walker who is a professor at the University of Texas at Dallas. I was proud to discuss not only theimportance of funding for programs like the National Science Foundation, but also ofthe increasing need to help ensure that the United States continues to foster innovation, spur research and development, and promote education for the STEM fields.
Congressman Sessions with teachers from UT Dallas