Houston's Fox 26 News Takes Note of TexasGOPVote's Story about StopPROP1
by Bob Price
on September 30, 2010 at 4:55 PM
---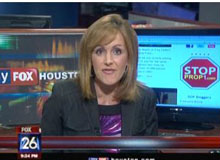 Houston's Fox 26 News weighed into the fight over Houston's Proposition 1 and the onerous fees that will be levied on home owners, renters, businesses, churches, schools and your favorite charity. 
The Fox News story featured a TexasGOPVote.com story about a new media campaign released this week by StopPROP1.com. The story contains a newly released video depicting a comedic creation of Mayor Anise Parker scheming to find a way to pass the already failed Rain Tax from 2003.
The Fox story goes on to show several members of Houston City Council who are also coming out against the ill-conceived proposal and a somewhat heated debate between Mayor Parker and Councilwoman Jolanda Jones. Jones appears to be casting some potential conflict of interest on the part of Councilman Costello who owns a civil engineering firm.
On Mr. Costello's official city website he says, "...there is not a single neighborhood meeting I attend where I do not hear from residents about drainage and flooding problems. Together with my colleagues, I am working hard to address these challenges by making sure the city invests in improving and maintaining its infrastructure, the very foundation of our great city."
It begs the question, is he talking about his city government colleagues, or his business colleagues who contributed over $500,000 to collect the 22,000 signatures needed to put this item on the ballot? Maybe Fox News could ask that as a follow up question.
Former Harris County Tax Assessor, Paul Bettencourt:
"It's not about the benefit. It's about the incredible cost of the proposal. This is like a lockbox without a top," said Paul Bettencourt, part of the opposition.
Bettencourt says Prop One would not only hurt homeowners but schools and churches with a lot of pavement. He's concerned about a lack of controls to protect from higher fees.
"There's been no intelligent discussion at City Hall about this, no public hearings, so why are we rushing to support a tax we don't know how much it's going to be?" he said.
Watch the entire Fox News story here.