Hurd Announces Nearly $1.4M in FEMA Grant Funding For San Antonio River Authority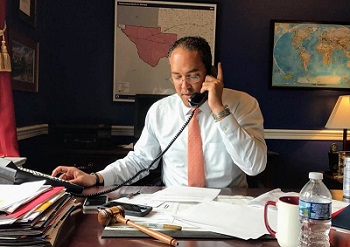 The U.S. Department of Homeland Security 's Federal Emergency Management Agency (FEMA) awarded $1,365,400 to the San Antonio River Authority for flood prevention, mitigation and protection. As a member of the House Appropriations Committee, I was proud to join my colleagues last year to support FY19 funding for these important initiatives.
This increase in funding comes from FEMA's Cooperating Technical Partnership (CTP) Program Cooperative Agreement. CTP enables and facilitates partnerships between FEMA and participating National Flood Insurance Program communities, regional and state agencies and other organizations that can and want to be involved in the FEMA flood hazard mapping program. The funding can be used to develop or support development of the floodplain mapping program RiskMAP, Floofd Insurance Rate Map and Flood Insurance Study report in addition to community outreach and mitigation strategies.
The San Antonio River Authority continues to make transformative ecological, cultural and economic improvements to our city, and this FEMA grant funding is crucial for them to update flood maps for changing rainfall rates for their watershed. I proudly supported funding for this FEMA grant and will continue to work with my colleagues on the Appropriations Committee to ensure funding for important initiatives like these that keep local communities safe.
"The San Antonio River Authority (River Authority) is thrilled to receive $1.4M of grant funding through FEMA's Cooperating Technical Partners Program today. These funds allow our team to provide the most updated flood risk information to the residents and businesses in the San Antonio River Basin. The River Authority will use this grant funding to update the floodplain maps across our basin and continue our LOMR Review Program," said Suzanne Scott, General Manager of the San Antonio River Authority.