The Jonathan Stickland Hypocrisy File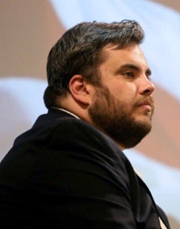 State Representative Jonathan Stickland is campaigning for reelection to Texas House District 92, which comprises a portion of Tarrant County and spans suburban Fort Worth. The following is a running list of the hypocrisies Stickland should be held accountable for.
Rep. Jonathan Stickland's online history exposes hypocrisy as he denied marital rape exists and tried cheating a drug test
While Represenative Stickland claims to be a proponent for the strengthening of family values, the New York Daily Post points to a comment in a fantasy football league where Stickland writes, "Rape is non existent in marriage, take what you want my friend!" Just a few months after the rape comment, he asks for advice on how to cheat a drug test and discusses taking a "detox drink," and hiding it from his wife. 
Reports surface exposing Rep. Jonathan Stickland's online history as he looked for a smoking buddy and sought advice on how to grow marijuana 
Representative Stickland asserts that he represents the Christian conservative values of his constituents, but reports have surfaced where Stickland said he is "looking for a smoking buddy" in order to "smoke da green." He took this hobby further with a post on the Seedmine forum, a network for cannabis seedbanks and breeders, where he solicited help on how to grow his own marijuana.