Kerrville Astronaut Shares Experiences in Space at U.S. Capitol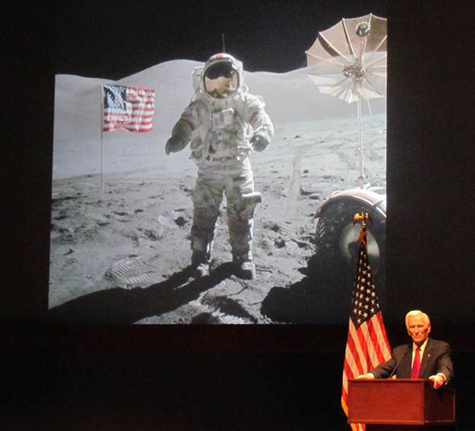 As House Science, Space, and Technology Committee Chairman, I hosted Apollo astronaut and Kerrville resident Gene Cernan today for a screening of The Last Man on the Moon, a documentary on Cernan's life.
Gene traveled from Texas to be with us this evening. He is a genuine American hero, not just for coming from Texas, but for what he's done as an astronaut. Gene owns a ranch in Kerrville, Texas, and you'll see some of the beauty of the Texas Hill Country in this movie.
I first met Gene Cernan when he and Neil Armstrong testified before the Science Committee in September 2011. At that hearing, Gene's advice to young people was to "never stop shooting for the Moon."
In his autobiography, he observed: "Too many years have passed for me to still be the last man to have left his footprints on the Moon. I believe with all my heart that somewhere out there is a young boy or girl with indomitable will and courage who will lift that dubious distinction from my shoulders and take us back where we belong. Let us give that dream a chance."
Sage advice to those of us in Congress, by someone who understands the value of inspiration and his role in turning dreams into reality.
Prior to the event, Cernan also addressed lawmakers about the importance of leadership in space exploration.
Apollo astronaut Gene Cernan: "This is not a film about me. It's a film about a young man, a kid, with a dream, who was fortunate enough to be born at a time when America understood exceptionalism. It took my producer a long time to convince me to do this film. I asked him 'Who wants to hear about me?' And he said, 'It's about the story.' So this film is not just about me, it's about a young boy with a dream."
In addition to the screening, the Science, Space, and Technology Committee approved a two-year NASA Authorization bill Thursday that seeks to restore balance to NASA's budget and supports space exploration systems needed to take U.S. astronauts back to the Moon or to Mars. The NASA Authorization Act for 2016 and 2017 is a budget-neutral bill that continues the consistent guidance Congress has given to NASA for nearly a decade by reaffirming a stepping stone approach to exploration. The bill's policy provisions largely mirror that of the House-passed NASA Authorization Act of 2015, a one year bill that passed with unanimous bipartisan support in February 2015.
Yesterday's bill is a step in the right direction to ensure that NASA will continue to innovate and inspire. The Authorization levels for FY16 and FY17 included in this bill provide NASA with the resources necessary to remain a leader in space exploration in a time of tight budget realities. For more than 50 years, the U.S. has led the world in space exploration. We must restore balance to NASA's budget if we want to ensure the U.S. continues to lead in space for the next 50 years. And we must continue to invest in NASA as the only government agency responsible for space exploration."
The Bay Area Houston Economic Partnership/Citizens for Spaceflight Exploration-Texas called the Committee's bill a "strong endorsement of America's space exploration program" because of its support of the "nation's global national security interests, technological innovation and competitiveness, high-tech jobs and future workforce opportunities, STEM education and quality of life improvements."
The Coalition for Space Exploration, which is comprised of aerospace industry companies, said the bill "reaffirms longstanding congressional support for NASA's Exploration Program, including the world's only super heavy exploration rocket, the Space Launch System (SLS), and deep space crew vehicle, Orion. Using these exceptional and unparalleled exploration systems, NASA will soon return American astronauts to cis-lunar space for the first time in more than 40 years and, eventually, take us to Mars. With suppliers across 48 states providing components for SLS and Orion, communities across the nation are all a part of returning American astronauts to deep space."
Planetary Society Director of Advocacy Casey Dreier has praised the Committee's "scientifically ambitious, affordable plan of solar system exploration" as well as the bill's "clear directives and support for [NASA's] future exploration." The Planetary Society, led by CEO Bill Nye, is considered one of the largest and most influential public space organizations in the world.
The Commercial Spaceflight Federation (CSF), which represents more than 50 commercial space companies across the United States, also expressed its strong support for the bill, citing "the Committee's increased support for the Commercial Crew Program" and the bill's ability to "restore America's capability to launch American astronauts on American rockets form American soil by 2017 and end our sole reliance on Russia."