Legislation passed this week in the House of Representatives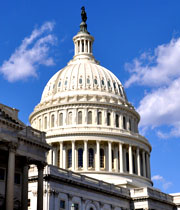 This week the House of Representatives acted to pass legislation that would provide much needed reform to the Environmental Protection Agency (EPA) and that would help spur robust job growth in our manufacturing sector.
On Tuesday the House passed H.R. 1422, the EPA Science Advisory Board Reform Act, to ensure unbiased and balanced participation on the panel that provides the foundation for costly EPA regulations. On Wednesday the House passed H.R. 4012, the Secret Science Reform Act, which would require the EPA to base its regulations on science that is available to the public and subject to independent review. These two bills would serve as a critical step to create greater transparency in the federal government and ensure that taxpayer dollars are being used efficiently and effectively.
On Thursday the House passed H.R. 4795, the Promoting New Manufacturing Act. Recently our country has seen a historic expansion in our energy sector, which has created a historic opportunity for a manufacturing boom. Increased manufacturing projects would generate much-needed economic investment and create thousands of good-paying jobs for hard-working Americans. However, investment in such projects has been hindered due to burdensome regulations and unnecessary red tape imposed by the EPA's lengthy preconstruction permitting process. H.R. 4795 would cut through the red tape, create a more efficient and transparent process, and get government out of the way in order to jumpstart new manufacturing projects and create much-needed jobs. /p>