McCaul Supports House Passage of Bill to Protect Venezuelans Living in the United States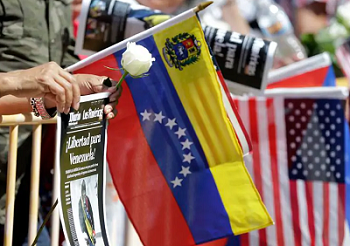 As the Lead Republican on the Foreign Affairs Committee and the Chairman Emeritus on the House Homeland Security Committee, I released the following statement after voting in favor of H.R. 549, the Venezuela TPS Act, designating Venezuelan nationals as eligible for Temporary Protected Status (TPS) in the United States:
We are witnessing an unprecedented humanitarian and refugee crisis that threatens to destabilize South and Central America. Nicolas Maduro's socialist policies and systemic corruption have plummeted the once prosperous Venezuela to a nation plagued by economic collapse and immense human suffering. I saw firsthand the conditions on the ground in Colombia, where 1.3 million refugees have poured out of Venezuela to escape the Maduro regime's brutality. 
On behalf of the Venezuelans that have escaped throes of socialism, and have relocated to our communities in Texas, I am proud to support the extension of the TPS program to those affected by Maduro. 
These Venezuelans are true refugees fleeing from a socialist dictatorship and should be protected from being returned to harm, which is what TPS was designed to do in the first place. We will continue to work with our partners in the region who are also helping Venezuelan refugees directly impacted by this crisis. The American people maintain their support for freedom-loving Venezuelans and will continue to do so until democracy is restored, and they can return to rebuild a brighter future for themselves without fear from the Maduro regime's depravity.