Morrow the self-described 'Jester' in Runoff with conservative Popp SBOE District 5
The one thing we know that happened in the Republican State Board of Education District 5 Primary Election on March 3, is that it was a ludicrous disaster.  Lani Popp the only conservative on the ballot came in with 46,276 votes and the self-described 'Jester' actually came in with 8,184 more votes than Popp to prompt a Run Off.  Robert Morrow, 'Jester', did not spend one minute campaigning nor did he spend any money on mail-outs or signs. The third candidate, Inga Cotton, had $200,000.00 to spend on winning but she didn't go out and meet the people in the district.  Obviously money was not the answer.  Immediately after the election Cotton threw her support to Popp as did every Republican on the SBOE board. 

So what went wrong with this race?  Many have speculated as to what the problem was and why Morrow won.  No need to guess when such an idiotic candidate wins because the blame sits squarely on the voters.  It's plain and simple, it was total ignorance as to who was running in that particular race.  It's like the voters went in blindfolded and thought they pinned the tail on the donkey.   In this case they did!    

Not even in the difficult times we find ourselves in with the Coronavirus Pandemic can Morrow be serious.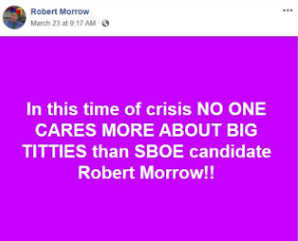 'Jester' Morrow runs around with his 'Jester' hat thinking he is inspiring, so smart, when in fact he looks stupid.  But then again he won, right?  What is it going to take for the voters in SBOE District 5 to learn that the joke is on them and their children?  A serious minded member is needed in district 5 to help solve the problems facing our Texas education system.

The Runoff Election has been moved from May 26 to July 14 because of the Coronavirus Pandemic.  The only candidate that can actually do the work and is prepared to assist the families and students in District 5 is Lani Popp. 

Let me go over the duties of the SBOE member: 

     Setting curriculum standards
     Reviewing and adopting instructional materials
     Establishing graduation requirements
     Overseeing the $40 billion Texas Permanent School Fund 
     Appointing board members to military reservation and special school districts
     Providing final review of rules proposed by the State Board for Educator Certification
     Reviewing the commissioner's proposed award of new charter schools, with authority to         veto a recommended applicant.

SBOE District 5 covers Blanco, Caldwell, Comal, Gillespie, Guadalupe, Hays, Kendall, Kerr, Llano, Mason, and San Saba counties and parts of Bexar and Travis counties.  There are an estimated four million Texas students that crave a decent, good quality education.  
How can a candidate like Morrow even begin to care about those four million Texas students when he focuses on 'titties' as he posts on his Facebook page.  He also posts the articles from the media that ridiculed him after the election like a badge of honor.  He has no shame, no self-worth, and adores being humiliated, so whatever I say about his perversion with 'titties' or other female parts and his totally disrespectful opinion of our president will not deter him.

Morrow's only campaign promise is this post on his Facebook page.

Voters be aware!  It is up to the electorate in SBOE District 5 to go to the polls on July 14 and vote for a sensible conservative like Lani Popp who has the interests of the parents and students as her primary goal. 

NOTE Definition of a JESTER:  A professional joker or "fool" at a medieval court, typically wearing a cap with bells on it and carrying a mock scepter.  A person who habitually plays the fool. 
THE RED REPORT©
RED SONJA
Fight, NEVER GIVE UP!