NOW LAW: Sam Johnson Bill to Honor Korean War Veterans with Wall of Remembrance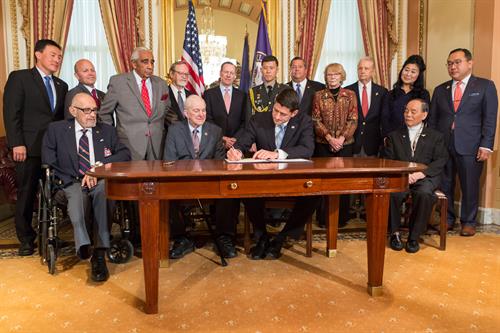 Last week, my bill, the Korean War Veterans Memorial Wall of Remembrance Act(H.R. 1475), was signed into law.  This law will permit a Wall of Remembrance to be added to the Korean War Veterans Memorial in Washington, D.C.  The Wall will list the names of all members of the U.S. Armed Forces who gave their lives in support of Freedom during the Korean War.  It would also list the total number of all American POWs and MIAs from the Korean War.
Additionally, H.R. 1475 – which has the co-sponsored support of over 300 Members of Congress – will be 100% privately funded.  No taxpayer dollars will be spent on this addition. 
As a 29-year Air Force veteran of both the Korean and Vietnam Wars, I'm thrilled that this important Wall of Remembrance will finally be made a reality. It was a team effort that would make our Armed Forces proud – I thank my fellow Korean War veterans, Congressmen Charles B. Rangel and John Conyers, as well as Senators John Boozman and Ben Cardin for their support.
A tremendous thanks is also owed to the fellow Korean War veterans who tirelessly championed this bill.  My compatriots and I felt the memorial in its current state did not fully convey the magnitude of the sacrifice made by American service members during this war.  More than 36,000 Americansgave their lives, and it is important that we honor our Fallen in this meaningful way.
It is my hope that when folks one day visit this Wall of Remembrance at the Korean War Veterans Memorial, that they appreciate and honor the sacrifice of each of those who gave their lives in the Korean War.  We are the land of the free because of our brave service members.  These heroes are shining examples of everything great that America stands for.  I can't think of a better way to individually honor each American who gave their life in Korea than through this Wall of Remembrance.   Our veterans – and all Americans – want, need, and deserve to have a place to come together in tribute to the memories of those who paid the ultimate sacrifice.
Quotes of Praise for Korean War Memorial Wall of Remembrance Act:
 "I am pleased that the Korean War Veterans Memorial will add a place for those to remember the names of our veterans and the heroes who never returned home. To know that out of ashes of impoverished people, a close ally, one of wealthiest countries and one of the firmest democracies has been established is a testament to the contributions Korean War veterans have made to the great American legacy that should be never forgotten." U.S. Congressman Charles Rangel (NY-13)
"Though a magnificent work of art, the Korean War Memorial fails to fully honor those who fell or suffered in battle as was intended by PL99-572, which authorized the Memorial.  The subliminal message of such in the existing Memorial is far too subtle and viewers depart, impressed with the magnificent artistry, but unaware of the desired intent of the Memorial.   Korean War veterans and the families of those who fell, were wounded, captured, or are still missing in action, will be forever indebted to Congressman Johnson.  Without his untiring efforts to gain the support of his colleagues in the Congress, both House and Senate, those who sacrificed and served would remain unknown and, as is their war, forgotten.  The Veterans of Foreign Wars of the United States is proud to support H.R. 1475 because it will help ensure our nation never forgets the service and sacrifice of ordinary Americans accomplishing extraordinary things under the most arduous of conditions." Veterans of Foreign Wars Adjutant General Robert E. Wallace, President of the Korean War Veterans Memorial Foundation
"The Korean War Veterans Association and Korean Defense veterans of the United States of America would like to thank Congressman Sam Johnson and his wonderful staff for all their dedication and support in making the Korean War Veterans Memorial Wall of Remembrance a reality. Now America's finest who gave the ultimate sacrifice during that war will never be forgotten."  James R. Fisher, National Executive Director, Korean War Veterans Association
"We extend our heartiest congratulations on the passage of the bill – Korean War Veterans Memorial Wall of Remembrance. The Korean War Veterans Memorial is a sacred place, symbolizing the blood-forged alliance between the two nations for the past 60 plus years. The Wall of Remembrance will record the names of the heroes who have devoted their service to protect the freedom and democracy in the Republic of Korea.  The Wall of Remembrance will serve to remind the next generation of the Korean War veterans' ultimate sacrifices and to solidify the Korea-U.S. alliance."  LTCOL Lee Kangwook, Assistant Defense Attaché from South Korea, Korean Embassy in Washington D.C.