Offshore Energy and Jobs Act of 2013 Passes the House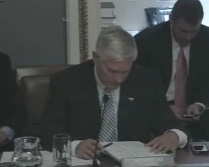 This week, House Republicans advanced a part of our all-of-the-above energy plan to help create jobs and boost our nation's energy security. The Offshore Energy and Jobs Act of 2013 (H.R. 2231), which passed the House today, would increase energy production by unlocking our nation's most resource-rich offshore areas. As you may know, the Obama Administration has imposed a defacto offshore drilling ban by putting potential resources off-limits to drilling and oil development. H.R. 2231 responds to the President's policies that reduce domestic energy production by requiring that the Administration implement a new five-year leasing plan in areas containing the most promising oil and natural gas resources.
Click here to view my remarks on H.R. 2231 in the Rules Committee.
President Obama's restrictive drilling policies – which lock up 85% of our offshore areas – cost Americans much-needed jobs, forfeit revenue that would pay down our skyrocketing debt, and deny access to domestic resources that would lessen our dependence on foreign oil. With the current average price for a gallon of regular gasoline above $3.50, I believe the federal government should be doing everything that it can to help drive down energy prices and increase domestic production of oil and gas.
In a sharp contrast from House Republicans' efforts, the President gave a speech this week announcing that he will introduce new energy taxes and mandates that will harm job creation and make energy more expensive for families and small businesses. Additionally, the President once again gave an excuse for delaying construction of the Keystone XL Pipeline. I will continue to stand up for North Texans by calling on the President to approve the job-creating pipeline and to expand American energy production so that we can create jobs and boost our energy security. To learn more about the House Republican energy plan, visit http://www.gop.gov/energy/.