Prioritizing Recovery and Rebuilding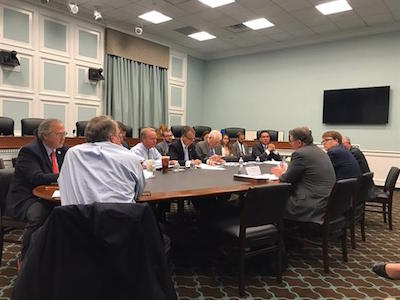 I am working with my colleagues in the House to secure all necessary federal dollars for Texas to help our region rebuild following Hurricane Harvey. This week, the Senate passed the second disaster supplemental appropriations bill that passed the House on October 12. This bill provides $36.5 billion in funding for recent disasters, and Texas is in position to receive $15 billion of the total package. I have been in constant communication with our local, state, and federal officials to ensure our communities are receiving the assistance they need to continue the recovery and rebuilding effort.
Earlier this month, officials from the Department of Housing and Urban Development (HUD) came before the Transportation, Housing, and Urban Development Appropriations Subcommittee to meet with me and other members of the subcommittee to brief us on the Community Development Block Grant Disaster Recovery (CDBG-DR) program. This program provides communities with block grants to address housing and public infrastructure needs for long term recovery. I spoke with them about the need to speed up funding to allow communities to use the funds for activities such as buyouts before those individuals begin to rebuild their homes. On October 20, Secretary Carson announced HUD would send an additional $57.8 million to Texas to recover from Hurricane Harvey. Once FEMA completes the damage assessments and identifies unmet needs, they will provide additional funding from the $7.4 billion in CDBG-DR funding approved by Congress in the immediate aftermath of the storm.   
Last week, I met with groups throughout District 7 to talk about the road ahead in the recovery and rebuilding process. Many families are still displaced from their homes, which is why I have twice requested an extension of the Federal Emergency Management Agency (FEMA) Transitional Shelter Assistance program. This important program provides folks with a hotel stay while they work to find longer term housing. I am pleased that FEMA has extended the program through November 6.
On October 19, FEMA also announced they would be extending the deadline to apply for disaster assistance through Friday, November 24. The extension also applies for the Small Business Administration's physical damage loans, which can provide assistance to businesses, private nonprofit organizations, homeowners and renters to assist with rebuilding and covering the cost of replacing lost or damaged personal property. My district staff is available to help you navigate these programs, and can be reached at 713-682-8828.    
I met with local officials from the city of Bellaire to discuss recovery and rebuilding efforts.
In my conversations with community leaders, we have discussed the additional federal resources that will be needed in the next disaster supplemental legislation to be considered by Congress. This includes clarifying the duplication of benefits language included in the Stafford Act so that individuals who utilize SBA disaster loans to rebuild will still have access to Community Development Block Grants for Disaster Recovery (CDBG-DR) that are provided by the Department of Housing and Urban Development. These grants are provided further down the road to meet the long-term needs of the region. I have also joined my Texas colleagues in Congress to ask Secretary Carson to issue several waivers, such as reducing the amount that must be spent in low to moderate income areas to 50 percent, and to expedite the release of those funds and make them available to all who were impacted by the storm.
Another area I am focused on is ensuring that the Army Corps of Engineers, in coordination with our great local sponsor, the Harris County Flood Control District, have the funding they need to expedite the completion of projects that will mitigate the impacts of future storms. The Army Corps also needs funding to dredge navigation channels in the Port of Houston. The Port is critical to our economy, and emergency dredging to lift the draft restrictions will help our economy get back on its feet.
These are just a few examples of my priorities as we continue to recover from the aftermath of Harvey. I will continue to work across the aisle with my colleagues and throughout all levels of government to ensure the region has the resources it needs to recover.
It is an honor and privilege to represent you and Texas in the United States House.