Rep. Jackson Renews Call for President Biden to Immediately Undergo a Cognitive Test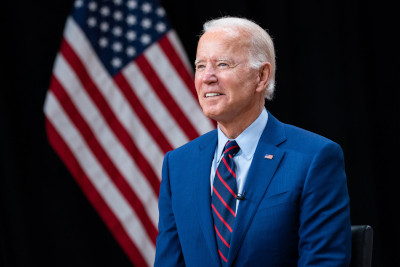 I sent a letter to President Joe Biden, his Physician, and his Chief Medical Advisor yesterday renewing calls for President Biden to immediately undergo a cognitive test and share the results with the American people. My letter comes after a clear decline in Biden's cognitive ability, the American peoples' growing concern about our Commander-in-Chief's fitness for office, and Biden's decision to avoid a cognitive test during his recent medical examination.
I told Houston Keene of Fox News: "My colleagues and I are again asking President Biden to immediately undergo a formal cognitive screening exam, such as the Montreal Cognitive Assessment (MOCA). As a former physician to three Presidents of the United States, I know what it takes mentally and physically to execute the duties of Commander-in-Chief and Head of State. Joe Biden has continually proven to me and to the world that something isn't right. The American people deserve to have absolute confidence in their President's cognitive ability. Taking the cognitive test will be an important first step in either reassuring worried Americans, or in identifying and properly treating symptoms of impairment that are consistent with a variety of cognitive diseases, such as Alzheimer's, vascular dementia, Parkinson's, or multiple sclerosis.
"This is not a partisan issue. When I discussed taking a cognitive test with President Trump, he was eager to assure the American people and to put the fake news media's stories to bed. Why won't President Biden do the same? We can only assume the worst if he doesn't submit to the same standard that his own party demanded of the last Administration. The precedent has been set."
Background:
I sent a letter to President Biden in June 2021 calling on him to take a cognitive test. His request was ignored.
Since then, Biden was examined by his personal Physician, but Biden either avoided taking the cognitive test or received one and refused to share the results with the American people. Clearly, there are internal concerns about Biden's ability to pass the same cognitive test that President Trump aced when administered by me as Physician to the President in January 2018.
In October 2021 polling, 48% of voters disagreed with the statement that Biden is mentally fit, with only 46% agreeing and representing a 19-point change from one year prior.
Congressional support for my request has more than doubled since June 2021, reflecting growing concern about Biden's lack of cognitive ability.
Additional background from Fox News can be found here, and the letter can be found here.
Co-signers include GOP Conference Chairwoman Elise Stefanik (NY-21), RSC Chairman Jim Banks (IN-03), GOP Conference Vice Chairman Mike Johnson (LA-04), and Representatives Jason Smith (MO-08), Joe Wilson (SC-02), Andy Biggs (AZ-05), Brian Babin (TX-36), Buddy Carter (GA-01), Andy Harris (MD-01), Diana Harshbarger (TN-01), Greg Murphy (NC-03), Jeff Van Drew (NJ-02), Randy Weber (TX-14), Vicky Hartzler (MO-04), Bob Gibbs (OH-07), Doug Lamborn (CO-05), Steven Palazzo (MS-04), David Rouzer (NC-07), Claudia Tenney (NY-22), Jeff Duncan (SC-03),  Jody Hice (GA-10), Ralph Norman (SC-05), Greg Steube (FL-17), Kevin Hern (OK-01), Lauren Boebert (CO-03), Madison Cawthorn (NC-11), Kat Cammack (FL-03), Jerry Carl (AL-01), Byron Donalds (FL-19), Pat Fallon (TX-04), Marjorie Taylor Greene (GA-14), Tracey Mann (KS-01), Mary Miller (IL-15), Barry Moore (AL-02), Troy Nehls (TX-22), Burgess Owens (UT-04), and Beth Van Duyne (TX-24).