Rep. Nehls Reveals he was Targeted in Malicious Capitol Police Criminal Investigation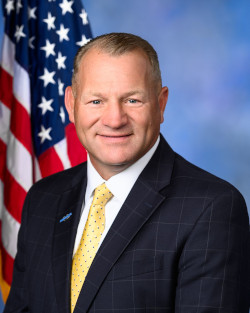 I recently revealed that I was the subject of a U.S. Capitol Police investigation in which a USCP officer entered my office and took a photo of private Congressional material protected by the Speech and Debate Clause, Article I Section 6 of the U.S. Constitution. This directly contradicts previous assertions made by Capitol Police Chief Thomas Manger that Members of Congress are not subject to criminal investigations.
On November 20, 2021, a USCP officer entered my office after allegedly discovering a door left open. Rather than clearing the office, the officer took photos of confidential material in my legislative office that detailed the introduction of a pro-law enforcement bill that would have ensured body armor quality for law enforcement officers. The photo was passed up to USCP intelligence analysts and a report was filed citing "suspicious writings." That following Monday, three plain-clothed USCP agents returned to the office, where they questioned a staff member about the contents of the questionably-obtained photo.
"This goes much deeper than an unethical entry into my office by Capitol police," I said. "This is a violation of Members' right to speech and debate, as well as a 4th amendment violation. Could you imagine leaving your front door open and police officers enter your private home, take pictures of the inside, and then open an investigation based on those pictures?"
I followed up with multiple calls, letters, and meetings with Chief Manger where the Police Chief stated the report came from concerns that the writings were a "veiled threat" to my life. No attempts were made by USCP to contact me about the supposed threat.
"After communicating with Chief Manger, it became clear that my office was under investigation and surveillance by USCP. We were the 'threat.' If Capitol Police had spent this much time investigating January 6th as they did investigating my private legislative materials, January 6th would not have happened."
The incident comes after I was selected by Leader McCarthy to be a member of the January 6th select committee, and have been actively critical towards the Capitol Police leadership's intelligence failures in the leadup to January 6th and the shooting of Ms. Ashli Babbitt.
I requested the Capitol Police Inspector General conduct a formal investigation into the incident. The request has been accepted by the Capitol Police IG.
"Capitol Police leadership have put a target on my back, but my work in exposing the security failures on January 6th, the death of Ms. Babbitt, and the sham investigation into the events of January 6th will not be deterred."