Republican Party of Texas July Chairman's Report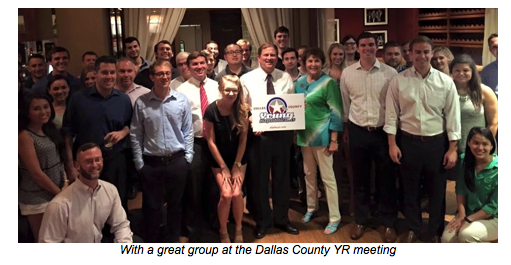 The following was written by Republican Party of Texas Chairman Tom Mechler:
Now that the legislative session is well in our rearview mirror, Republicans across the state are getting into "campaign mode." Although the Republican Party of Texas (RPT) does not endorse primary candidates, we are very busy getting ready for the 2016 General Election to ensure we hold our strong Texas majority and put a Republican back in The White House. The month of July afforded me the opportunity to attend quite a few Young Republican (YR) meetings across the state. Next Generation (youth) engagement is a core mission of the RPT and is a vital component to our long-term success.
I attended three great YR meetings in July. I enjoyed the opportunity to speak to the Austin Young Republicans. Representative Paul Workman introduced me at the meeting, and I spoke about my vision for the future of the RPT. Towards the end of July, I visited with the Northeast Tarrant Young Republicans. They are an impressive group of young activists. Tarrant County GOP Chairman Jennifer Hall was in attendance and I always enjoy visiting with her. Jennifer is retiring after she serves out her current term as chair. She has done a brilliant job during her tenure, and has helped transform Tarrant County into a conservative powerhouse. Jennifer's leadership will truly be missed.
I had the privilege to speak to a large crowd at the Dallas County Young Republicans meeting at the beginning of July. It was energizing to spend time with so many fired up young Republicans, and I was also happy to see my friend Dallas County GOP Chairman Wade Emmert there. The Dallas YRs also had quite a few first time attendees at this meeting, which tells me there is a lot of enthusiasm in Dallas County for next year's elections.
On my DFW trip, I also met with Tea Party leaders from across the state to discuss a wide-variety of issues regarding the RPT. Some of these folks came from as far as South Texas for this meeting, and I am extremely appreciative they took time out their busy schedules. The meeting was a success and I look forward to having many more like this in the future.
After spending a couple of days in DFW, I traveled to Wichita Falls to speak to the Wichita County Republican Women. Click here to read more about this visit. They have a wonderful group and President Annette Barfield was a very gracious host.
In preparation for the 2016 elections, the RPT had our annual Campaign Management School in mid-July. Our Political Director, John McCord, did a great job organizing the school this year. We had some of the top minds in Texas Republican politics teach a wide variety of topics from fundraising to organizing phone banks. I'm confident that every student not only gained invaluable knowledge, but also came out of the school much better prepared to help elect Republican candidates in 2016.
One of my favorite meetings this month was with a group of county chairs from the Panhandle. I'm proud to call the Panhandle home, and am a former county chair myself; so many of these folks (pictured above) are longtime friends. We were also joined by our Organizational Director, Cassie Daniel, who does a fantastic job for the RPT. It was fun to catch up and talk about the future of the RPT with these committed activists. I am eternally thankful that so many committed men and women have dedicated their time and treasure to be county chairs. The RPT wouldn't be where we are today without their tireless work.
This Chairman's Report is just one of the ways you can get RPT news. Another way you can stay in touch with the RPT is by "liking" us on Facebook: https://www.facebook.com/RepublicanPartyofTexas.
It is an honor to serve as the chairman of the best state party in the entire country. If either my staff or I can ever be of assistance, please don't hesitate to contact us at (512) 477-9821 or at [email protected].