San Antonio Mayoral Run-Off Election Today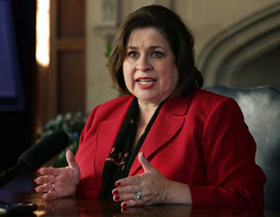 Imagine my surprise when I read the front page of the liberal Express News on Sunday, June 7...two articles discussing the husbands of the mayoral candidates, Ivy Taylor, 'Mayor facing interest conflict' and Leticia Van de Putte, 'Tax woes plagued Van de Putte's husband'. What came over the Express News to actually attempt at having a balanced assessment of both the candidates' husbands? My first thought, readers are fed up and are pressuring the editor. But then I thought, NO, the Express News doesn't care about having a balanced opinion of two opposing candidates. The ink used to demean Taylor has got to be unprecedented. No, they have their own agenda. My question then is, 'Who is pressuring Express News to be a fair and balanced news media? If only this 'trend' would last.
On Saturday, June 13, voters in San Antonio will decide in which direction this historic city will go. There is a glimmer of hope with Taylor because she is a woman of Faith and believes strongly in doing the right thing for the citizens. She has promised to listen to the people and is backed by the Pastors and Conservatives of San Antonio. Taylor grew up as a Pentecostal Holiness and is not afraid to reveal her faith affiliation. She presently attends Greater Corinth Baptist Church. She is endorsed by businessman Ernesto Ancira who is also her treasurer, Councilmen Joe Krier of District 9 and Mike Gallagher of District 10, also former commissioner and mayoral candidate Tommy Adkisson.
Van de Putte who has previously claimed to be a Roman Catholic and a member of St. Joseph's downtown has emerged as not having any religious affiliation when asked during a forum debate but did attend 210 Church at Johnson High School on Mother's Day. In what appears to be a desperate call for help, 'Johnny come lately' Joaquin Castro has put out a video endorsing Van de Putte. This alone should signal to the voters that if elected, Van de Putte will continue to do business as 'usual', her own brand of 'influential' political payback. Castro's endorsement should be the biggest reason NOT to vote for Van de Putte!
The Run-Off Election will have attracted about 100,000 concerned voters by the end of Saturday night. At the close of Early Voting on June 9, the total amount of ballots cast was 60,336. This information is straight from the Bexar County elections website. The heaviest voting was on the North side where Taylor has her largest supporters, Brookhollow, Cody Library, Wonderland of the Americas and Parman Library at Stone Oak locations. This may urge Van de Putte to push harder in bringing in votes for her race on Saturday. Van de Putte's supporters are in the Southside based on the May election. The early voting ballots could decide the race as early as 7:15pm on Saturday evening. But considering everything, we can't take anything for granted. If you have not voted, you can still vote on Saturday, June 13 at your regular voting place.
According to Nelson Wolfe, Van de Putte is not qualified to be mayor.
IVY TAYLOR and LETICIA VAN DE PUTTE Round 1 PART II
Wolfe endorsed Van de Putte, an inflexible partisan politician, despite the fact that she does not meet any of the criteria that he wrote in his book, 'An Inside View of San Antonio Politics, 1981-95'. On page 157 he wrote, "That creating a good mayor takes time", and that, "A mayoral candidate needs at least four years' experience on council before running." A more thought-provoking paragraph is on page 51. "Citizens want their council representative to be responsive to life's irritations, large and small; things like a pothole, or a neighbor violating a code, or a loose cat or dog, or traffic cutting through the neighborhood, or any of a host of other things. They also want their phone calls answered."
The RED REPORT
Sonja Harris
Pray, Fight, NEVER GIVE UP!