Sessions Applauds Passage of Concealed Carry Reciprocity Act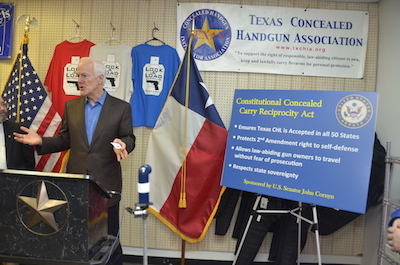 I released the following statement applauding the passage of the Concealed Carry Reciprocity Act:
Last month a tight knit community in my home state of Texas was devastated by a deranged, murderous individual who took the lives of dozens of innocent men, women, and children in a place of worship. During this horrific act, a law abiding citizen heard the shots and jumped into action to save the few lives that were remaining. Because of his bravery and his 2nd Amendment right he was able to protect himself as well as the others in that church.
I have always believed that our communities are safer because of these Good Samaritans who responsibly and lawfully keep and bear arms. I proudly supported this bill because it­ not only ensures that an individual's right to carry doesn't stop at state lines but it also strengthens the National Instant Criminal Background Check System to prevent a lapse in the system like the one that occurred with the Sutherland shooter.
To learn more about H.R. 38, the Concealed Carry Reciprocity Act, click here.