Supporting Our Greatest Ally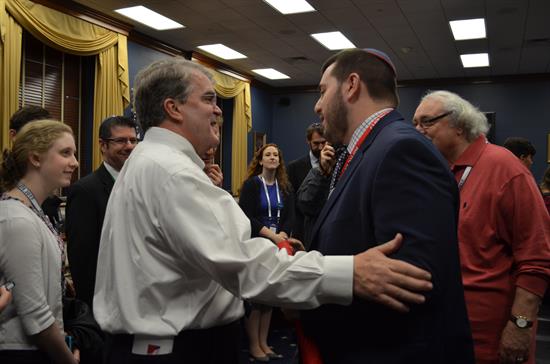 You will often see me wearing a very special lapel pin. It is a pin with the flag of Texas beside the flag of our nation's greatest ally, Israel - or as I like to call them, the two Lone Star States. Both states have shown strength in adversity, and an overwhelming connection to their heritage and history. I am proud that Texas is a fierce friend of Israel, and I will always stand with Israel in solidarity.
Recently, it was my honor to welcome Houston members of the American-Israel Public Affairs Committee (AIPAC) to Washington, D.C. to discuss crucial issues facing the Jewish community, Israel, and give an update on my work in the House. This year, sixty-five members of AIPAC came to discuss America's support for Israel.
One of the very last acts of President Barack Obama's presidency was refusing to veto a United Nations resolution that condemned Israeli settlement construction. This was the last act of betrayal on a long list of broken promises to Israel over the last 8 years.
The new Congress is devoted to standing with Israel and repairing the U.S.-Israel relationship. One of the first pieces of legislation the House voted on in the 115th Congress was a resolution calling for the repeal of the U.N. resolution, which I cosponsored.
Israel is our greatest ally, and a true friend to the United States. Their strength in the Middle East is imperative, and the United States will continue to support Israel. In last year's appropriations bill, Israel received funding to maintain the US-Israel missile defense programs, including the Iron Dome. These defense technologies are crucial for the safety of Israelis in such a volatile region and I look forward to continuing that support.  
It is the United States' job to protect our strongest ally in the world, and I will always vote to stand with Israel.  
It is an honor and a privilege to represent you and Texas in the United States House.