TEXAS SD26 Key to Republican/Democrat Future – ALMA PEREZ JACKSON CAN WIN!
Native San Antonian Alma Perez Jackson is the only conservative running for Senate District 26. This is the senate seat that Liberal Leticia Van de Putte vacated to run for the mayor's position in San Antonio. It seems the Democrats are tripping over each other to win this seat as there are at least three if not four candidates vying for this position.
Alma stands for education, economy and job growth. She is Pro Life, Pro Family, and will fight for Religious Freedom. She will work hard to make sure that Texas does not have a state income tax. Because she lives in this district she is aware of the issues that affect the voters in the area.
Education is very important to Jackson as she believes that everyone should have a high school degree and strive for higher education. SD26 has an estimated population of 786,805 with 362,318 speaking English only. It also has a dropout rate of 22.06% or 109,503 that do not graduate from high school. Jackson supports school choice and will work to decrease the dropout rate in the district.
Winning this SD26 would place San Antonio on a trajectory for better jobs, a more robust economy and enable students to have the opportunity to complete their education. And most importantly help to return San Antonio to its conservative roots.
One only needs to read Trey Martinez Fischer's ultra-liberal voting record to know that he will fight for abortion, the environment which will hinder job growth and gun control with his 17% rating from the NRA. Looking further into his record, there are no significant bills to his credit on education or any other topic. Jose Menendez is high on the environment and like Fischer has a 100% rating from the NARAL, pro-abortion. Menendez is a replica of his mentor Van de Putte, suggesting that SD26 will remain 'as is', stagnant.
According to an article by Mark Jones in Trib Talk, the graph depicts the standing of all 55 Democrats in the Texas House for the 2013-2015 legislative sessions, indicating that Fischer is one of the most liberal representatives matching his progressive voting record. Menendez on the other hand is a 'status quo' representative.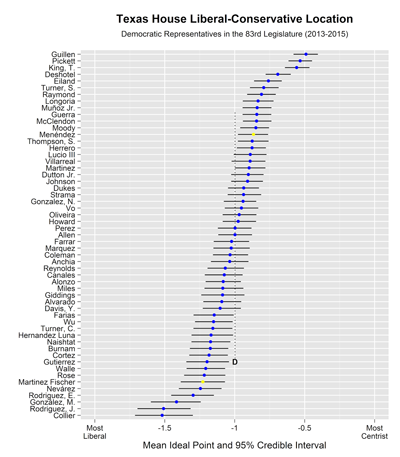 The citizens of SD26 deserve a representative that will address the concerns facing the people of the district and to find solutions to remedy the situation. Not someone who will turn away jobs and economic growth.
Alma Perez Jackson is the right choice of SD26. Please tell all your friends and neighbors that SD26 can be won by a conservative. Contributions can be sent to: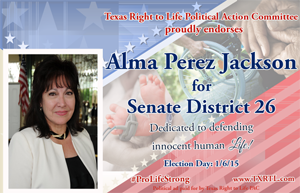 Alma Perez Jackson
5804 Babcock Rd
PMB #334 San Antonio, Texas 78240
2012 Record
http://votesmart.org/candidate/138385/alma-perez-jackson#.VIiCvs8tCUk
Early voting starts on December 29 and the Special Election will be held on January 6, 2015. There is no time to waste. Follow this link for detailed information on where and when to vote for SD26 COPY AND PASTE
http://home.bexar.org/elections/EarlyVote/latest_EarlyVotingCalendar.
RED SONJA 2014©
Pray, Fight, NEVER GIVE UP!
http://www.fyi.legis.state.tx.us/fyiwebdocs/pdf/senate/dist26/m1.pdf
WHERE AND WHEN TO VOTE SD26
http://home.bexar.org/elections/ How one race could chart Texas Democrats' future http://www.tribtalk.org/2014/12/14/how-one-race-could-chart-texas-democr...
Voting Records
Rep. Trey Martinez Fischer
http://votesmart.org/candidate/key-votes/49471/trey-martinez-fischer#.VI...
Rep Jose Menendez
http://votesmart.org/candidate/key-votes/49908/jose-menendez#.VIkfb88tCUk