Volunteer of the Year Award for Texas Senate District 25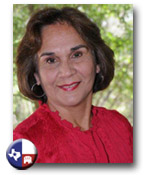 This has probably been one of the most memorable experiences in my political activist journey, receiving the Volunteer of the Year Award for Senate District 25 which includes Comal, Kendall, Hays and parts of Bexar, Guadalupe and Travis Counties. I call it a journey because I sincerely doubt that my volunteer work ends after receiving this prestigious award. It seems that there are candidates and my favorite cause, Pro-life, that need my support and attention. 
                                                            Photo by Josh Harper
I would like very much to reach out to those that might be thinking, 'I wonder how she did it'. My honest answer is I did not set out to receive this award; so in essence, it's taken many hours of hard work, some gaffes, and plenty of resolve. As a recipient of several awards, I am humbled and yet amazed at the unsolicited attention. My goal has always been to bring accurate information to the voters because when I started writing in October, 2008 that was the only thing that mattered. And in October, 2015, 7 years later, that is still the only thing that matters. My website Conservatives in Action and Google Plus have over one million page views combined. TexasGOPVote and a Christian newsletter, The Torch, publishes my work, not to mention other publications which add to my readership.
We should never forget September 11, 2001 for the horrendous terrorists' attacks on American soil. But I will also have the memory of my day at the Texas state capitol on September 11, 2015. All 31 Senate District winners were invited with their guests for breakfast, a tour of the state capitol and lunch with our Texas Land Commissioner, George P. Bush. He gave a very interesting discussion on the Alamo which I thoroughly enjoyed.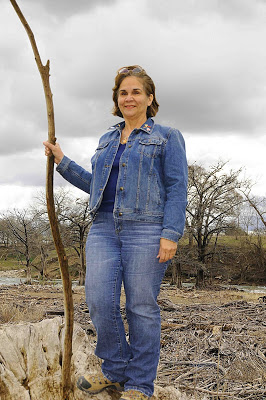 After lunch, we had a round table discussion where each honoree shared their story so that we could learn from each other. My story was very different from the other volunteers as I was the only one publishing articles about candidates and Pro-Life using photographs to inform conservative voters.
Our next stop was to visit Governor Greg Abbott and his gracious wife, Cecilia at the Governor's Mansion. We were permitted to use the beautiful stairway to reach the upstairs guest bedrooms, which had not been open to the public before. They have been renovated and are beautifully decorated. My favorite was the Sam Houston bedroom. Even though I had seen Cecilia many times, I had not had an opportunity to speak with her. In conversing with her, we found out that we had attended the same Catholic high school in San Antonio, my hometown. We also share mutual friends.
How fortunate to be invited to sit next to the Governor for a photo opt only to discover that the photo opt included a notable chat. Our discussion focused on my work as a writer and on the presidential election. I was very impressed that he actually knew about me and my work.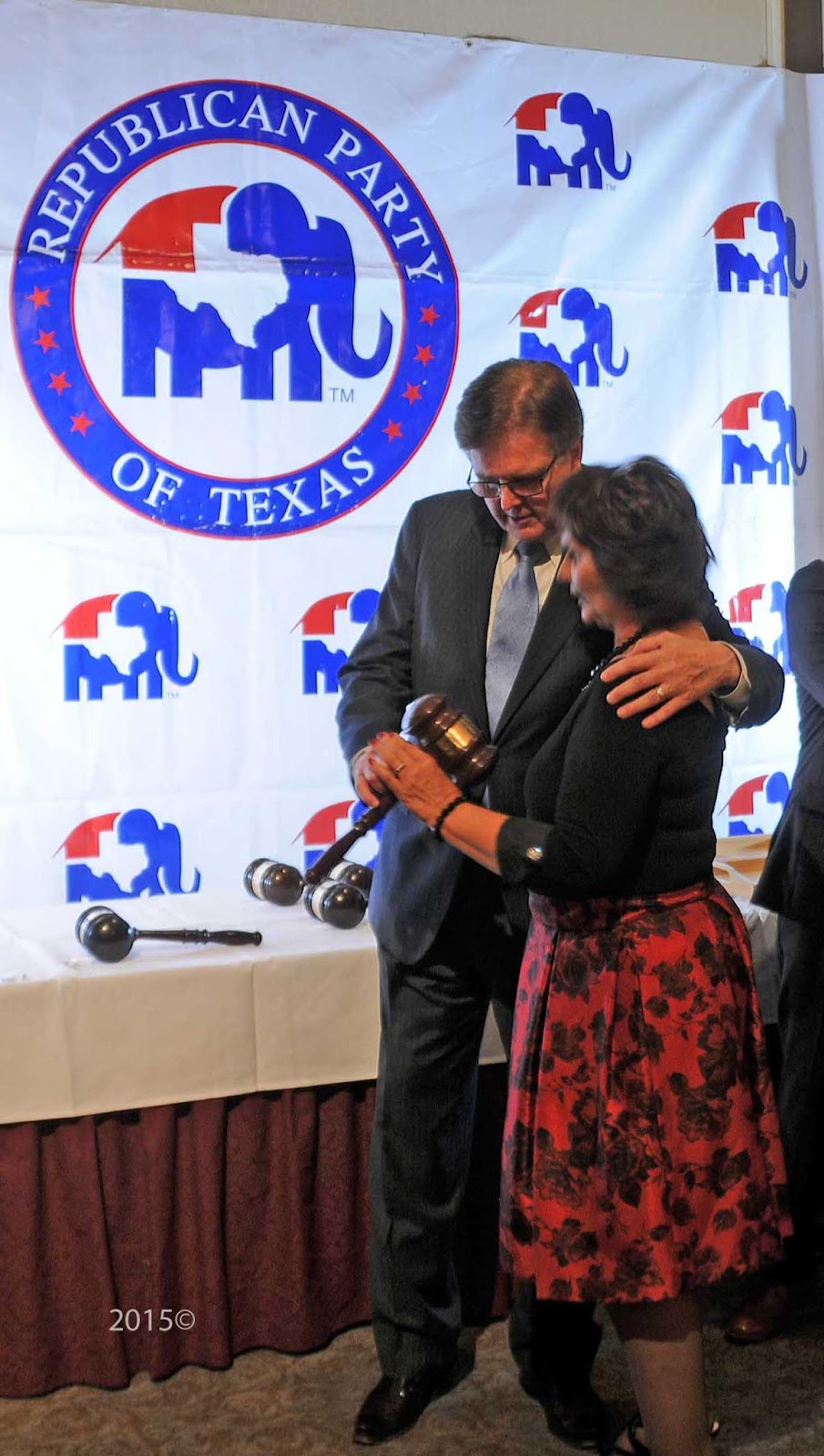 The final event of the day was the banquet and presentation of awards. Lt. Gov. Dan Patrick presented a gavel to each honoree and a wooden tray was also given to all the 31 recipients. Texas Senator Donna Campbell, SD25, surprised me by awarding another gavel presented by SD25 SREC members Jeff Judson and Linda Kinney. A friend commented that I could now be called Red Sonja Thor...I thought it was funny.
The keynote speaker was Lt. Col. Allen West, introduced by Texas Senator Brian Birdwell, a 911 survivor which was very appropriate. I won't soon forget West's words referring to the 42 senators voting against the procedural vote on the Iran Deal...as 'traitors', I tend to agree with him. Another statement that made everyone shout was, "Don't come to Texas with your 'crap,' leave that behind," referring to people moving to our great state and then wanting to turn it 'blue'. Again, I totally agree with him. So please don't come to Texas and think that we need to change because we don't!
All in all, it was a very exciting and memorable time for me and my husband, Bill. He supports my political activities and I might add that he not only supports me by being optimistic when situations get testy, mostly with disgruntled candidates that are not elected, but he is my financial benefactor as well. I receive no monetary exchange from any candidate. My sister has been the behind the scenes support together with a very few trusted friends that I call from time to time for candid commentary. It takes a lot of people to promote and support the Republican Party and the volunteers are the backbone and heart that keeps it alive. We helped found the Republican Club of Comal County, and I am a member of the Canyon Lake Republican Women.
With the primary election fast approaching on Super Tuesday, March 1, I ask that you keep me in your prayers that I may have the discernment and physical health needed to do my volunteer work. In conclusion, I want to thank my personal photographer, Bill and our friend Russell Hayter, for taking the time to photograph the activities of the day.
God Bless Texas, God Bless America.
The Red Report
Sonja Harris
Pray, Fight, NEVER GIVE UP!