Wayne Christian Authored 5 Legislative Bills that Would Increase Regulations and Provide Solyndra-like Subsidies for Renewable Energy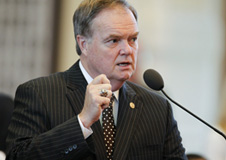 During his time as Texas State Representative, Wayne Christian, now a Republican candidate for the Texas Railroad Commission, authored five legislative bills that would put increased regulations on Texas oil and gas companies.
With Texas' strong energy industry generating crucial jobs and tax revenue for Texans, one would think a candidate for our state's oil and gas regulatory board should have experience in supporting the oil and gas industry, not undermining it.
Wayne Christian efforts began by promoting biomass electric generation and supporting a biomass plant in Sacul, TX. He also authored legislation to increase regulations and limit Class II injection wells.
During the 2007 legislative session, Wayne Christian authored legislation supporting biomass electricity generation. Christian authored House Bill 1214 (80-R), mandating the Public Utility Commission require at least 500 MW generating capacity from renewable energy sources such as biomass, which burns wood and waste from production of timber.  
The then State Director of Americans for Prosperity, Peggy Venable, stated of the Solyndra-like government subsidies this bill would create: 
"Frankly, we oppose the state subsidizing any energy generation. There is a market for energy, and when renewable energy becomes viable, then the market will demand it."
Christian also authored HB 1090 (80-R), which paid farmers and ranchers to supply the biomass plant with fuel.
Christian's attempts to promote this technology coincided with the development of a biomass generation plant in his House district. The bills would have helped Nacogdoches Power LLC – a biomass electric generator – to sell its power to companies that supply electricity to the general public.
Manufacturers and forest product producers opposed the legislation. The Texas Association of Manufacturers and Temple-Inland raised concerns that the bills endangered forest products manufacturing jobs, while subsidizing biomass projects. 
However, the HB 1214  never became law, and Christian blamed corporate greed for its failure, specifically blaming Temple-Inland for convincing Sen. Troy Fraser to not bring the bill to the floor.  
In 2008, Wayne Christian attended a meeting on oil and gas regulations, where he promised to address attendees' health and safety concerns by introducing legislation to threaten the oil companies into negotiation.
A year later, during the 2009 Texas legislative session, Christian followed through with his promise by authoring three bills to regulate oil and gas drillers: House Bill 4027, House Bill 4028 and House Bill 569. These bills prohibited where drilling could take place, increased testing requirements, and expanded notification requirements to include local governments.
Christian's House Bill 4027 was the most damaging to Texas' oil and gas industry. It limited the drilling locations of Class II injection wells, which are used for enhanced recovery of oil and gas, and added a myriad of new restrictions. The bill required the Railroad Commission to create new rules prohibiting Class II wells near homes, churches, schools and day care centers as well as prohibited wells from being drilled in "unsuitable areas."
Christian's legislation draws a parallel to federal government actions to stop drilling. In addition, Christian's requirement prohibiting drilling in endangered species' habitats is similar to the U.S Fish and Wildlife Service decision which threatened drilling in West Texas due to an endangered lizard species. Although, Christian has criticized that ruling, his legislation would have halted drilling by Class II injection wells along similar lines.
All three bills increased regulation of the oil and gas industry. These regulations included policies similar to the overreaching EPA's policies. By pushing to subsidize and mandate renewable energy and to limit certain types of drilling, Wayne Christian has worked against oil and gas interests at a time when the industry is providing economic growth for Texas. His actions raise concerns that he would discourage oil and gas production if elected as Railroad Commissioner.