What the TOP FIVE Democrat Presidential Candidates Reveal with their TWEETS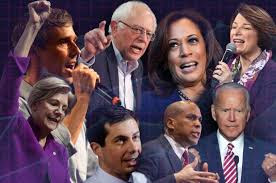 The Primaries will be here before we know it, in early 2020.  Texas will hold its Democrat Primary on Tuesday, March 3.  In case you are wondering why I am writing this article, it's so Republicans can understand how this country is at risk if one of these Socialists is elected. 

Obviously from their latest tweets  there is no sanctity of life. They definitely believe in abortion and will bring back Planned Parenthood from the depths of hell to dismember more unborn babies.  This alone should be a significant reason not to vote for any Democrat.

Gun Control is one of their goals and the Second Amendment will somehow disappear.  How soon after one of these Socialists is elected before there is a gun registry and then comes confiscation.   

They cry and have compassion for the illegal alien but do not encourage the US House to pass laws in order to ease the crisis at the border.  In fact, these dolts mock our president for trying to 'solve' the situation by legally changing the Flores Agreement to extend the waiting period. 

The police have become the 'bad' guys and the criminal has become the 'good' guys.  Notice how the candidates are happy for the family of Eric Garner and are pleased that the officer was fired. Our policemen or no longer respected as they should be even though they are in harm's way every day.   Blue Lives Don't Matter with these lawless candidates.  

Climate Change will become a reality and fossil fuels will eventually go by the wayside.  How will this work out?  Who will be allowed to own cars, to travel by airplane?  Certainly these aren't hypothetical questions.  While it may be true that the Rain Forest is burning, the fires are being set to clear the land for business.


And since these presidential candidates have a socialistic mentality, the government will be 'God'. Our First Amendment will be rewritten so that we use the language of the Progressives.  Religious Expression will be suppressed and not only will anti-Semitism continue to rise, but Christians will be persecuted.

JOE BIDEN is considered the frontrunner, but watching him makes you wonder if he has the capacity to cerebrally stay attentive and physically able to endure the campaign.  
 
It is cruel and abhorrent to strip migrant children of the few protections they have. It's not enough this administration puts children in cages without soap and beds, now it wants to keep them there indefinitely. This isn't who we are.
8:45 PM · Aug 21, 2019

On day one, I will eliminate President Trump's decision to limit asylum and undo his executive orders that eliminated Obama-Biden enforcement priorities on national security and public safety.
8:46 PM · Aug 21, 2019

The Trump Administration's Title X rule is a direct attack on Planned Parenthood and the crucial services the organization provides. Access to health care could be taken away from millions of women. It's wrong, and as president I will reverse it.
6:34 PM · Aug 19, 2019

Two-thirds of Americans agree that we should ban assault weapons. As president, I will take on the @NRA and get it done.
2:05 PM · Aug 18, 2019

We cannot afford four more years of a president who ignores the disastrous effects of climate change. My plan for a Clean Energy Revolution & Environmental Justice will address the climate emergency & protect our communities for generations to come.
5:15 PM · Aug 17, 2019

ELIZABETH WARREN, warmly referred to by President Trump as Pocahontas, is an extremist, a hard core Socialist.   She advocates a wealth tax that she will impose on the wealthiest: 2% of wealth over $50 million and 3% on wealth over $1 billion.  And when that money runs out? Oh, yes everything will be FREE. 

Climate change is an existential crisis we all face—and it's going to take big, structural change to solve it. I can't wait to talk about my plans to protect our planet and tackle climate change at the @CNN Climate Crisis Town Hall next month!
2:56 PM · Aug 22, 2019

The Flores agreement mandates that migrant children cannot be held in detention for more than 20 days. Today, the Trump administration announced its plans to roll back Flores—putting thousands of children in danger. We must fight this.
1:41 PM · Aug 21, 2019

I stand with @PPact

The Trump administration's gag rule is a deliberate attempt to keep providers like Planned Parenthood from serving patients—and an attack on women with low incomes who depend on them to get the care they need. We'll fight this.
9:45 AM · Aug 20, 2019

The United States has the highest incarceration rate in the world. Our policies are tearing families apart and devastating communities—and they aren't making us safer. I've got a plan to completely reform the criminal justice system from front to back.
11:37 AM · Aug 20, 2019

Glad to see some justice for Eric Garner and his family. But Daniel Pantaleo should have been fired a long time ago. And our criminal justice system needs big, structural change.
3:08 PM · Aug 19, 2019

Yesterday, I talked with @BlackChurchPac about how the Black maternal mortality crisis is threatening the lives of Black women. I'm way past "Let's raise awareness about this problem." We have to do something about it.
2:21 PM · Aug 18, 2019 

BERNIE SANDERS admits he is a Socialist and, sadly, is manipulating our youth.  He woos them with legal marijuana, free college, and free healthcare.  He recently came out with his Green New Deal, a Socialist program that will completely destroy America as we know it.  This program will only cost $16 Trillion.   Who will pay for this?  If you care to read it, his plan is on his website.  

The climate crisis is the greatest challenge facing humanity. It's also our single greatest opportunity to build a just and equitable future. We are going to create 20 million jobs and an economy that works for all.
It's time for a #GreenNewDeal
6:00 AM · Aug 22, 2019

The officer who killed Eric Garner has been fired. That is not enough. We have got to change how police departments operate, finally end police brutality and stop the killing of unarmed black and brown Americans. Here are some of the ways I plan to do that as president: 1/

There are 7/7 posts on this 
2:02 PM · Aug 19, 2019   

We must legalize marijuana nationally, expunge past marijuana convictions and ensure revenue from legal marijuana is reinvested in the communities most impacted by the failed War on Drugs.
10:29 AM · Aug 18, 2019  

If Israel doesn't want members of the United States Congress to visit their country, maybe they can respectfully decline the billions of dollars that we give to Israel.
4:57 PM · Aug 16, 2019   

This is the agenda of the Trump administration: to keep millions of women, especially low-income women, from getting health care they need. What a disgrace. Congress must take action to overturn this outrageous rule.
5:31 PM · Aug 19, 2019   

The reason we need Medicare for All boils down to this: The point of a health care system should be to keep people alive and healthy—not to make billions of dollars in profits for greedy health insurance companies.
3:10 PM · Aug 15, 2019   

KAMALA HARRIS, in my opinion, is the most cunning and evil of the five.  She lies with ease and promises gun control and abortion including infanticide on the first day in office.  She is an attractive, black, intelligent woman who will stop at absolutely nothing to achieve her goal, the Oval Office.  She claims to have been tough on the environment in California but can't clean up the 'poop' crisis in her home state.  A scary prospect!  

As CA's Attorney General, I defended California's landmark climate laws in court. My friend @GavinNewsom is now leading the charge in California to fight climate change and protect our environment. Trump can either get on board with our state and automakers, or move aside.
6:12 PM · Aug 22, 2019

How does detaining families longer make our border secure or stop transnational gangs — things the DHS should actually be spending their time doing? 

It doesn't.
2:00 PM · Aug 21, 2019

In some rural communities, Planned Parenthood is the only place to get low-cost reproductive care — meaning people could suffer longer wait times, higher costs, and a lack of services because of Trump's gag rule. It's shameful.
9:25 AM · Aug 20, 2019

Medical bills are the main reason Americans go bankrupt in the United States. It's absolutely shameful what our nation is doing to our citizens. We must pass my Medicare for All plan.
6:25 PM · Aug 19, 2019

Trump's domestic gag rule is forcing Planned Parenthood out of Title X, limiting access to affordable birth control and critical reproductive care for millions of people. This is a disgrace. As president, I will undo this gag rule on my first day in office.
4:33 PM · Aug 19, 2019

Under my plan for Medicare for All, we will cover millions who don't have health insurance today and ensure no American will have to choose between getting the care they need and putting food on the table.
5:23 PM · Aug 16, 2019

PETE BUTTIGIEG, IF elected, will be our first 'wife' because Pete's husband is Chasten, his partner.  Chasten calls himself "First Gent South Bend", because Pete is Mayor of South Bend, Indiana.   Pete has a tendency to over use the word, morality.  He has criticized our president for his family values while showing off his 'partner.'  He and his partner are both gay and in a relationship.   He supports abortion, considers himself a feminist and proudly stands with Planned Parenthood.  He advocates adoption for dogs but not babies.  He is angry that the illegal children entering into our Country are being checked for HIV status, again, slanting to the homosexual community.   Certainly a very 'moral' person!  Most Christians know that a same-sex relationship is not moral.  We can see where that presidency will go.  

It's time to end the stigma associated with reproductive freedom. That begins by sharing stories, especially when they are difficult. Thank you to all those, including the @NARAL members I met yesterday, who've summoned the courage to share theirs.
12:13 PM · Aug 22, 2019

At a moment when we have such a sustained assault on reproductive freedom, I believe it is vital that Democrats be vocal in standing up for women—and that men running for president be twice as vocal about this issue at this time.
9:39 PM · Aug 21, 2019

This is an attack on women. Enforcing this new 'gag rule' will cost millions of women—especially low-income women of color—access to safe, affordable care #IStandwithPP #ProtectX
3:21 PM · Aug 19, 2019

Our country is under attack by white nationalist terrorism, abetted by weak gun laws and the gun lobby. If we are serious about national security, we must be clear about the threat we face and the factors behind it. Our president has proven once again that he is not.
12:04 PM · Aug 5, 2019

Separating children from their parents based on HIV status, in defiance of guidance from @HHSGov, is another display of ignorance and cruelty by this administration. Every migrant child separated must be identified and reunited.
3:38 PM · Aug 2, 2019

Last year, @Chas10Buttigieg and I welcomed Buddy into our household and into our lives. Like his "brother" Truman, he quickly became a big source of joy. Rescue dogs have long been an important part of my life, and I'm with all those on board to #ClearTheShelters
2:21 PM · Aug 17, 2019

Since there are still several months before the primaries begin, listed are only the top five at this time.   This is a glimpse of the world IF a Progressive Democrat is voted into office. A president from this list is enough to cause multiple nightmares….ACT, do something positive to remind everyone you come in contact that President Trump should be reelected if you desire to remain free.    
THE RED REPORT©
RED SONJA
Fight, NEVER GIVE UP!