Governor Perry appoints Beverly Nuckols to Texas Institute for Health Care Quality and Efficiency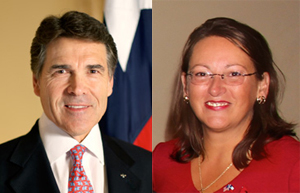 I can't say the whole name of the Institute (Texas Institute for Health Care Quality and Efficiency) in one breath, so I alternate between calling it "the Institute," or "tick" for "TIHCQE."
TIHCQE will make recommendations to the Texas Legislature on how to measure quality and efficiency and help bring innovation to cut costs while still taking care of our Medicaid patients, those who have State health plans, and future "health care collaboratives" or HCC's. The latter could be the Accountable Care Organizations that are laid out in the Accountable Care Act ("Obamacare"), or something brand new in Texas.
For immediate release:
Reference: http://governor.state.tx.us/news/appointment/17014/
Governor Rick Perry Appoints Beverly B. Nuckols, MD, FAAFP, to Texas Institute for Health Care Quality and Efficiency
Austin, Texas – Texas Governor Rick Perry has appointed New Braunfels Family Physician, Beverly B. Nuckols, MD, FAAFP, to the Board of Directors of the Texas Institute for Health Care Quality and Efficiency, for a term to expire January 31, 2013.
The 82nd Legislature created the Texas Institute for Health Care Quality and Efficiency as part of Senate Bill 7. The Institute is charged with improving health care quality, accountability, education and cost to the state by encouraging health care provider collaboration, effective health care delivery models and coordination of health care services.
Nuckols, a board certified family physician in private practice, has lived in New Braunfels with her husband, Larry, since 1993. She is a member of the Texas Medical Association, American and Texas Academies of Family Physicians, and the Comal County Medical Association. Nuckols serves on the Board of Directors for Texas Alliance for Life, New Braunfels Options for Women and is the Chair of the Family Medicine Section of the Christian Medical and Dental Association. She has served as a member of the National Advisory Committee on Violence Against Women and the Texas Association Against Sexual Assault, and a board member of the Comal County Women's Shelter and New Braunfels Hospice.
Nuckols received a bachelor's degree from the University of Texas at Tyler, and completed medical school and family practice residency at the University of Texas Health Science Center in San Antonio. She received a Masters in Bioethics in 2007 from Trinity International University in Deerfield, Illinois.