Governor Rick Perry a Race We Must Win! Action Required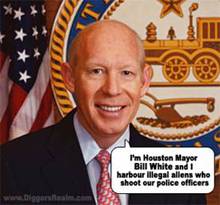 The strongest reason for the people to retain the right to keep and bear arms is, as a last resort, to protect themselves against tyranny in government. - Thomas Jefferson
Gov. Rick Perrys Brand New TV Ad: Sergeant Johnson
TEXAS is a great state and so are its people, we know how important it is to reelect Governor Rick Perry. Come November 3rd we must send a loud and clear message that screams to the Obama administration that we are unquestionably a RED state! There are 18 open governor's seats that will be decided on this November 2nd. People do have the power to choose which path they will follow, one that will lead them to economic destruction or one that can lead them to economic freedom. We need more states with Republican governors to unite against Obama and his crazies. New Mexico has Susana Martinez ahead of the Democrat Diane Danish and Nevada has Brian Sandoval winning over Harry Reid's son Rory. These two states have a great opportunity to redirect their future by voting for Republican governors. All the governor's races are listed below in the 2010 Governor Races by Clear Politics.
Texans could not have a better leader than Rick Perry. Why do you suppose so many people are entering Texas to live? The answer is simple we have jobs to offer and a favorable business climate! September numbers show that Texas had an 8.1 unemployment figure while the US unemployment rate was 9.6. Jobs from other parts of the US just keep on pouring in. The Bay Area in California is sending 1,400 Medtronic jobs for the treatment of diabetes to San Antonio. Makes you wonder what was former mayor Phil Hardberger thinking when he endorsed Bill White? Caterpillar is consolidating two plants from union states and transferring them to Seguin, Texas. Caterpillar is also establishing a hydraulic plant in Victoria, Texas. Governor Perry is working with the Texas education system to create a skilled workforce. According to Governor Perry we now have 60% more doctors practicing medicine in Texas today than in 2003. There are now 20 counties along the Texas/Mexico border, Corpus Christi and South East Texas that have Emergency Room physicians providing for Texans that did not have them in 2003. This was accomplished because of the tort reform legislation that was passed in 2003 which was geared towards the medical profession.
Texas has a severe border problem but 'sanctuary' Bill White is not the one to solve the illegal immigration situation. As much as White tries to deny and ignore the fact that Houston is a sanctuary city, evidence proves it to be. The Houston Police Department endorsed Governor Perry because of the many officers murdered by illegal aliens with criminal records during White's tenure as Mayor. Officer Gary Gryder, Officer Rodney Johnson, Senior Officer Henry Canales lost their lives in the line of duty and Officer Richard Salter an almost 30 year veteran was maimed for life by an illegal alien during an arrest. White is shameless in accusing Governor Perry of exploiting the death of Sergeant Johnson in the latest Perry TV ad but what is shameless is the fact that Mayor White did not protect the police officers or the citizens of Houston, Texas.
The state of Texas is a conservative state with uniquely Texas situations that should be solved by Texans and not by the Federal Government. So you decide if you want White's sanctuary state, Obama's educational and economical one plan fits all, and a Governor who is endorsed by Planned Parenthood. On the other hand Governor Perry is doing all he can to fight the violence on our border, has worked to establish Texas as an oasis for business and will not make Texas a sanctuary State. The Alliance for Life and Texas Right to Life have both endorsed Governor Perry. The facts show that White truly does not value human life. Texans need someone who will stand up to Obama and not run and hide like White did when Obama visited Texas. This fact we should never forget!
Officer Richard Salter
 Houston Top Narcotics Officer Shot in the Face by Illegal Alien
Houston Police Officer Richard Salter was shot in the face last week while serving a drug warrant and is in critical condition. Doctors are optimistic because recently Salter, a 27 year vet and the top narcotics officer in Houston, moved two of his fingers. It has now been released that Wilfido Joel Alfaro, 29, a drug smuggler with multiple run-ins with the law in both the US and Mexico, was an illegal alien from El Salvador and had deportation orders.
http://www.diggersrealm.com/mt/archives/003069.html
White accuses Perry of exploiting Houston police officers widow
Officer Rodney Johnson was shot and killed four years ago, by an illegal immigrant. Juan Leonardo Quintero already had a criminal record and had been deported once before the shooting.


Widow of Houston Officer Killed by Illegal Immigrant Shocked at ICE Appointment
Officer Gary Gryder, Houston Police Department
On June 29, 2008, Officer Gryder was working traffic control when drunken Vietnamese national Hing Trong crashed through a construction barrier and ran him over. Officer Gryder was taken to the hospital where he later died of his injuries. Several witnesses claimed that when Trong was laughing as he was taken into custody. Officer Gryder was a 23-year veteran of the Houston Police Dept., and left behind a wife and three children.
Officer's killer no stranger to police Deported once, he'd had several HPD traffic stops
By JAMES PINKERTON and SUSAN CARROLL
Copyright 2009 Houston Chronicle
June 26, 2009, 12:02PM
Municipal records also show that Roberto Pedroza Carrillo, 37, had been stopped and ticketed by the Houston Police Department at least four times since 2002, most recently last November. In 2002, a warrant was issued for Carrillo after he failed to appear in court on a speeding ticket, but the case was resolved when he paid the fine.
But because he never was arrested and fingerprinted in Houston, there was no way for ticketing officers to know he was here illegally. Carrillo was killed in a gunfight Tuesday night seconds after he paid thousands of dollars to undercover officer Henry Canales, who was posing as a thief selling stolen televisions
GOVERNOR RICK PERRY ON THE WAR NEXT DOOR VIDEO
October 26, 2010
GOVERNOR RICK PERRY COMES TO NEW BRAUNFELS, TEXAS
Comal County Republican Chair Larry Nuckols and Dr Beverly Nuckols welcome Governor Rick Perry State Representative Doug Miller District 73 introduces Governor Rick Perry to supporters
Governor Rick Perry speaks to Comal County supporters
2010 GOVERNOR RACES
RealClearPolitics 2010 Governor Elections Map 
RealClearPolitics 2010 Governor Elections Map Race Changes 
VOTE RICK PERRY!
KEEP TEXAS RED!