'For Greater Glory' - Catholic Church Has Drawn The Line In The Sand
"Fight and organize; fight and moralize"
One of the Cristeros mottos

http://www.youtube.com/watch?v=9QUb_StcVzg&feature=youtu.be
There have been so many movies that have disappointed me in the last couple of years that I really was not expecting too much from 'For Greater Glory'. Was I ever surprised! It is the story of the Cristeros struggle for religious freedom in Mexico from 1926-1929, a story that I had not heard before. Yes, I have always heard 'rumors' of how the Catholic priests had been persecuted in Mexico, but I did not realize that so many had been slaughtered for their faith.
This movie brought home a very real possibility, the possibility that this could happen in America. I could not help but compare Plutarco Elias Calles, the president of Mexico at the time of the Cristeros War to Barack Hussein Obama, the president oppressor we currently have. Calles, an extremist in anti-clergy, signed the 'Law for Reforming the Penal Code', known throughout Mexico as the 'Calles Law'. This law gave specific consequences for priests and other Catholics if the provisions of the 1917 Mexican Constitution were violated.
Article 3 of the (Mexican) constitution required that education, in both public and private schools be completely secular and free of any religious instruction and prohibited religions from participating in education - essentially outlawing Catholic schools or even religious education in private schools. Article 3 likewise prohibited ministers or religious groups from aiding the poor, engaging in scientific research, and spreading their teachings. The constitution prohibited churches to own property and transferred all church property to the state - thus making all houses of worship state property.
The war with the Catholic Church is real. The battle for our First Amendment, freedom of religion is a very real war, as it touches every religion in America not just the Catholic church. If Hussein can bring down the Catholic Church in America he can conquer America.
On May 21, 2012, 43 Catholic dioceses, hospitals, schools and church agencies sued the Obama Administration because of the Health and Human Services mandate requiring the Catholic Church to provide contraceptives and other procedures contrary to Catholic doctrine. This mandate is in direct opposition to our First Amendment, the right to freedom of religion. The media has given very little coverage to this coercion even after Cardinal Timothy Dolan has made it very clear that this mandate is being forced even over moral objection. The line has been drawn, the Catholic Church vs the Obama Administration. Where will this lead us if Obama is reelected? I shutter just thinking about this horrific prospect.
Watching the heroes in the movie die for their faith, another thought passed, how many of us would be like the young boy, Jose Sanchez, who was tortured for not denying 'Cristo Rey' before he was murdered or General Enrique Gorostieta, an atheist, who later received the gift of faith, both willing to die for 'Cristo Rey'? It is estimated that from 50,000 to 90,000 Catholics gave their lives for 'Cristo Rey'. How many would deny 'Cristo Rey'? This thought has invaded my mind.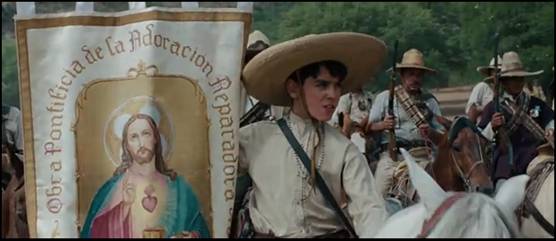 Relics of six of the priests, canonized by Pope John Paul II in 2000, were on display in San Antonio at the San Fernando Cathedral the weekend of June 2-3. The relics consist of small slivers of bone from each of the priests and placed in a silver cross shaped box. Pope John Paul II canonized 25 martyrs to saint status in 2000 and Pope Benedict XVI beatified 12 more martyrs in 2005, including Jose Luis Sanchez.
'For Greater Glory' is about the most frightening movie I have seen. The portrayal of the characters in the movie come way too close to our present day lives. I urge everyone to see this movie regardless of religion affiliation.
Catolicos a Horcados
Hanged Catholics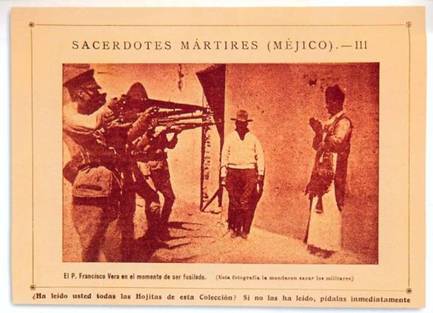 DEADLINE JUNE 19, 2012
If you have not already done so, please click on the link below to send messages to the Department of Health and Human Services (HHS) and Congress, urging them to stand up for religious liberty and conscience rights.
Click the link below to log in and send your message: http://actions.nchla.org/link/target/nchla/iEJ8MbGW.aspx
Ringing of Church Bells
http://www.archsa.org/FreedomofReligion/documents/Fortnight%20For%20Freedom_calendar.pdf
'FOR GREATER GLORY' - CATHOLIC CHURCH HAS DRAWN THE LINE IN THE SAND
http://redsonja-conservativesinaction.blogspot.com/2012/06/for-greater-glory-catholic-church-has.html
DEADLINE JUNE 19, 2012 If you have not already done so, please click on the link below to send messages to the Department of Health and Human Services (HHS) and Congress, urging them to stand up for religious liberty and conscience rights.
Click the link below to log in and send your message:
http://actions.nchla.org/link/target/nchla/iEJ8MbGW.aspx
Ringing of Church Bells
http://www.archsa.org/FreedomofReligion/documents/Fortnight%20For%20Freedom_calendar.pdf
'FOR GREATER GLORY' - CATHOLIC CHURCH HAS DRAWN THE LINE IN THE SAND
http://redsonja-conservativesinaction.blogspot.com/2012/06/for-greater-glory-catholic-church-has.html