Reasons To Thank God You Are Not In California #3,421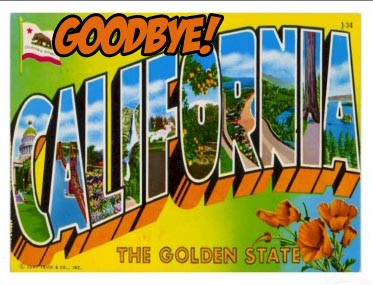 The California Insurance Commissioner has approved a 37% rate increase for 2012. This move is being made in spite of the fact that Governor Jerry Brown vetoed several legislative measures that would have increased workers compensation costs.
Looks like Cali will have trouble turning around its rank as the worst state for business in the country for 2012. It also looks like Texans will continue to see Californians migrate to the Lone Star State:
"I have no second thoughts, no qualms, no reluctance about what I've done and moved to Texas," said Joe DeInnocentes, a California transplant. "I'm not sure I'd ever go back to California, quite frankly."
For DeInnocentes, the state economy is stronger here. His whole family is employed, he said. The state's unemployment rate sits at 8.1 percent compared to California's 12.3 percent. The national average is 8.7 percent.
"Certainly, California is not a business-friendly state," said Biff Comte, who is moving his entire corporate headquarters of his home health care business AccentCare to Texas.
The business is currently settling into its North Dallas property, and only brought about 15 workers with it. That means, Comte said, about 80 new jobs for Texans. But why move?
"Everything from the lawsuits, to the taxes too," he said. "They're just going to get worse until they fix their problems. So instead of fighting it, we decided, let's go to a state and a city that really wants business."
Amen Biff. Welcome to Texas! We are glad you are here. Let's hope that Texans learn the lesson here as well and remember what it was that attracted these businesses in the first place. It's not the Cowboys' new stadium. It's not light rail. It's not city parks. Those things are all nice, but it is more about what Texas hasn't got:
[I]n the California capitol of Sacramento, Gerar Zawaydeh said he struggles to keep his restaurants open because of state bureaucracy.
"Every year, the legislature introduces a lot of regulations as far as small businesses are concerned that could prove to be costly," he said. "I want to stay in California, but I also have to make a living as well."
Another part of the allure is that Texas is a right-to-work state with no personal or corporate income tax. The labor force is considered well educated, but perhaps more importantly, it's considered hungry for work.
What does California have that Texas doesn't? Try choking government regulations and bureacracy, dominant private sector unions (we do have public sector unions in local government and school districts . . . where our biggest problems are), and income taxes for starters. These are the fundamentals that at the end of the day matter more than weather and pretty views.
I guess we can add low workers compensation costs to that list as well.