Rep. John Culberson receives US Chamber's Spirit of Enterprise Award for the 112th Congress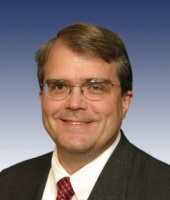 Rep. John Culberson (TX-07) recently received the US Chamber of Commerce's prestigious "Spirit of Enterprise" award. This award is given annually to members of Congress based on rankings it gives for key business votes outlined in its yearly publication, How They Voted. This is the 22nd year that the U.S. Chamber has formally honored the accomplishments of this select group of members of Congress. Congressman Culberson has proudly received this annual award since 2002.
The Chamber's designated "key votes" are recorded floor votes on issues established as priorities by the Chamber, on which the Chamber informs Congress of its position on prior to the vote. Senators and House members who support the Chamber's position on at least 70% of these key votes receive the "Spirit of Enterprise" award.