Harris County Strikes Back Against the Thriving Sex Slave Business in Houston Texas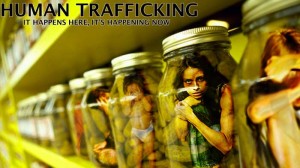 Houston and Harris County have become one of the leading markets for sex slavery and human trafficking. The problem is so expansive it even encompasses the Super Bowl (see below). Asian and Latino massage parlors pop up faster than police can shut them down. They are easy to spot, but difficult for police to make cases against. This Sunday, Feb. 6 at 9PM CST, MSNBC will air a program called "Trafficked: Slavery in America".
The focus of this episode will be the Harris County Sheriff's Department and a sting operation they conducted recently. It shows the types of places where these women are held and abuses as sex slaves in "houses of prostitution" across Houston and Harris County.
In addition to the Harris County Sheriff's Department, Precinct 4 Constable Ron Hickman's department has been very aggressive against these types of establishments in his area, shutting down several locations along FM 1960 and other notorious hot spots in North Houston.
Captain Skip Oliver told me they believe there are between 2,000 and 3,000 of these places across Harris County, from illicit massage parlors to innocent looking nail salons.  Cpt. Oliver said, "We have never had an outcry from an individual involved in these arrests that they were being held against their will. We see it more as organized crime and prostitution, than trafficking."
He confirmed that in many cases the women are held in cramped living conditions, many times sharing one room.  "They are moved around a lot," Oliver continued. "After about two weeks in one location, the 'managers' will fly them to other cities like Los Angeles or New York City."
Many of the individuals are in the USA on "student visas" that have expired. He said they have found little evidence of people who were actually smuggled into the country illegally.  We will follow up more on this later.
The Houston Chronicle recently reported on the difficulty in prosecuting cases of human trafficking and sex slavery. According to their article, cases involving human trafficking are hard to tease from prostitution and illegal immigration cases and are harder to prosecute unless a victim informs on the case.
The story continues, A study by Texas Attorney General Greg Abbott found that human trafficking is far more common than the cases authorities have been able to prosecute. But Abbott spokesman Jerry Strickland said quantifying the problem with any degree of precision is nearly impossible "by nature of the fact that it's been in the shadows for so long. Police and other law enforcement agencies are trying to bring it out from the shadows."
The Super Bowl has even come under scrutiny for becoming what Gen. Abbott called "a magnet for child sex traffickers" in a story this week at SportsUntapped.com.
US Border Watch, president, Curtis Collier, said, "We have long advocated the position that human trafficking was the silent poison of our unsecured border and broken immigration system.  This problem is out of control in Texas and we support law enforcement's efforts to take effective action. Enforcement action will help, but until the border is secured, enforcement will continue to be less than effective."
According to The Campaign to Rescue and Restore Victims of Human Trafficking, between 600,000 and 800,000 are victims of this crime worldwide. And, women's advocate and author, Cheryl Whittaker estimates that between 14,500 and 17,500 people, primarily women are trafficked to the US annually. This is in addition to the over 250,000 American youth who are victims of commercial sexual exploitation according to the US Department of Justice.
Obviously this is a very large problem in America, but especially in Houston, Texas. We will be following this story with additional information in the near future.
---
An Additional article of interest: "Art, Smut, or Pornography - Art Part 1"