Representative Dan Branch Donates $10,000 to RPT in Honor of the Hispanic Republican Conference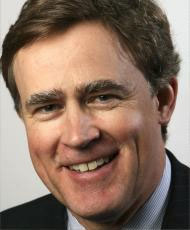 RPT - The Republican Party of Texas would like to extend our sincere thanks to State Representative Dan Branch (R-Dallas), for his generous donation of $10,000 to the RPT! Representative Branch made the gift to the RPT in honor of the Hispanic Republican Conference in the Texas House - a group formed earlier this year to broaden the perspective of the GOP supermajority on key issues considered in that chamber. Branch is a member of the caucus by virtue of representing a district where at least 30 percent of the residents are Hispanic.
Said Chairman Munisteri, "Representative Branch has long demonstrated his commitment to thoughtful conservatism and the Republican Party. His latest donation is just another example of his ongoing dedication to the Republican Party of Texas. His generosity is very much appreciated, and his leadership is helping the party expand the outreach of our conservative ideals as we enter the 2012 elections. I greatly appreciate the leadership that Dan and other members of the conference have put forth this year, and was honored to recently host several of the members here at the RPT headquarters. Our party continues to grow in both influence and numbers across Texas and much of this success is due to the partnerships we are forming in the Hispanic community."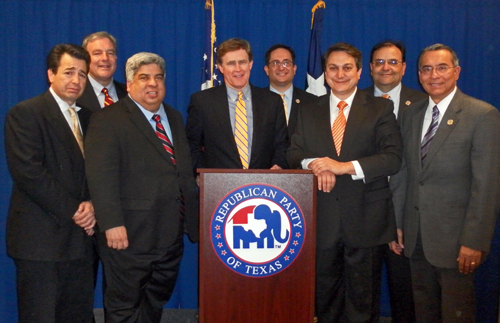 Branch joins RPT Chairman Munisteri, HRC Chairman Aaron Peña, and HRC officers John Garza (R-San Antonio), Dee Margo (R-El Paso), Larry Gonzales (R-Round Rock), Jose Aliseda (R-Beeville), Raul Torres (R-Corpus Christi) at the check presentation ceremony in honor of the Hispanic Republican Conference.
First elected to represent District 108 in 2002, Representative Branch has distinguished himself as a leader on education and budget policy issues. In 2009, he was appointed Chairman of the House Committee on Higher Education, and was re-appointed as its Chairman for the current legislative session. Representative Branch has made the education of our future workforce his top priority! As a true fiscal conservative, he has saved Texans hundreds of millions of dollars by his commitment to reduced spending by our Legislature. We thank him for his results-oriented leadership for Texas, and are honored to have earned his support for our ongoing efforts to build the Republican Party!