Home and Office of Dallas County Commissioner John Wiley Price Raided by FBI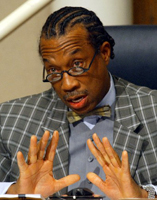 Monday morning, the home and office of Dallas County Commissioner John Wiley Price was raided by the FBI. TexasGOPVote has covered John Wiley Price's egregious behavior in the past. 
In February, John Wiley Price was thought to be involved with the forced resignation of Dallas County Administrator Bruce Sherbert. When citizens questioned Price, he responded: "Why are all the speakers white? All of you are white. Go to hell."
So far, there is no word on what, if anything, federal authorities have seized. Agents have been moving dollies with boxes and documents inside the court building.
It's not clear exactly what the FBI is investigating at this point. Several previously opened investigations could possibly involve Price and other county commissioners, including:
a probe into the Inland Port failure in southern Dallas County 
special investigation into deputy constables working KwanzaaFest in which $15,000 was not repaid 
Federal agents have also obtained search warrants for the home of John Wiley Price's longtime assistant Daphne Fain.