Home at Last - Stephen Broden Welcomes the Troops
DFW Airport, 0745 hrs… A small group of family members, veterans and other patriotic Americans gather at Terminal D, baggage claim 8 for what some described as a daily gathering of love. The cause for this gathering, a flight of American Airmen, Soldiers and Marines arriving after a 16hr non-stop flight from Kuwait. Congressional candidate for Texas CD 30, Pastor Stephen Broden joined with the veterans and family members to welcome them home.
Some of the Vietnam and Korean era Vets who gathered said they were there to give these young men and women the welcome home they never had. They wanted to make certain these vets knew they were appreciated. Warriors of two prior generations sharing the pride of service and fellowship with the new generation of American Servicemen and Servicewomen.
Pastor Broden spoke with the vets about why they were there and what the experience had been like for them from previous welcome home gatherings. It was an amazing sight to see this group of Americans gathered to greet these returning heros," Broden said. "These vets who are here, and the arriving soldiers have made serious sacrifices of their time, talent and treasures to stand on the wall between freedom and tyranny."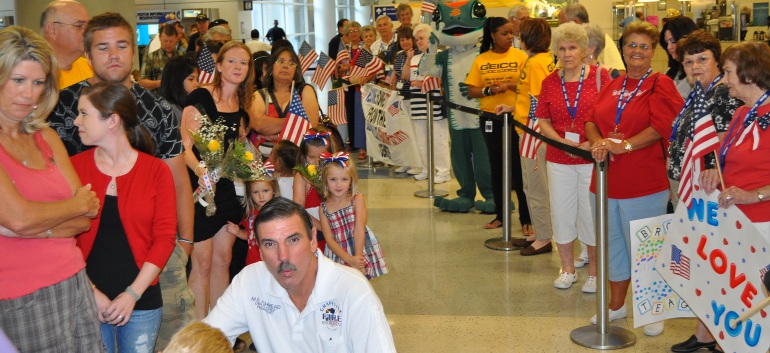 Suddenly, the doors to the international arrival section open and one by one, soldiers appeared, taking their first steps on American soil. The terminal began playing the service songs of the various branches of service and the crowd, which had now increased to over 200 people, began to applaud and cheer.  Soon the smattering of soldiers became a steady stream as the over 120 troops cleared customs and entered the welcome area. Tears of joy were visible not only from those gathered to greet these heros, but on the faces of the men and women coming through the gates of freedom.
Army Major McVeigh, returning to Ft. Hood, Texas, was greeted by the best welcoming committee there could be… His proud wife and three very excited beautiful young daughters. As he approached and saw them in the crowd, he dropped to his knees and took them and their love into his arms.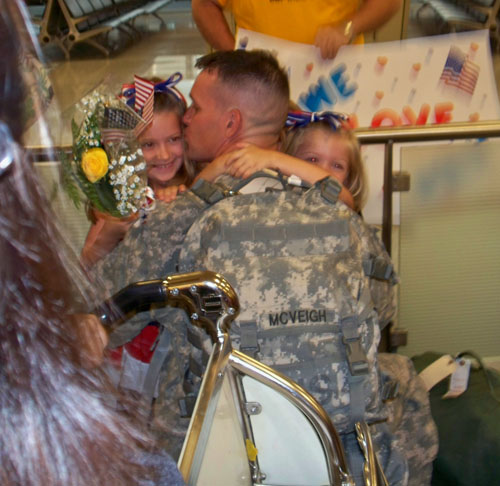 While some were directly greeted by family members, all were welcomed back to America by appreciative citizens who recognize the sacrifices made by these young people. The Lewisville Senior Activities Center joined forces with other patriotic groups to help make the welcome even more poignant.
I was struck by how young these people are," Broden continued. "It was a very special moment for them and for all of us standing there. We ask them to take on an amazing responsibility, that of standing up to the face of terrorism and stop it from attacking our country."
While this Welcome Home was very well attended" Broden said, "we can do more. I would encourage all who live in the DFW area to take advantage of this very special opportunity."
Afterwards, Pastor Broden spoke with Army Sergeant 1st Class James Kanganis with the Military Assistance Unit assigned to help the returning veterans with travel arrangements and other issues. Kanganis has obviously walked in their shoes. As a member of the 82nd Airborne his uniform tells a story of his service with the Combat Infantry Badge, Paratrooper Wings and Airborne Assault Wings.
Army Specialist Schermeyer spoke briefly with Pastor Broden about her tour of duty in Afghanastan. She was returning to the US for a R&R leave after a 10 month deployment.
This event happens every morning at Terminal D at DFW Airport. For those wishing to get more information, please call 972-574-0392 to confirm flight arrival times at 7 am for the morning you choose to attend.
As I stepped out of the air conditioned airport and into the 85 degree Dallas morning heat that would reach up to near 100 this afternoon, I was struck by the thought that to these returning soldiers, this must be like a cold front…
To those who serve and to all who have in the past, this welcome home is very special.