House Passes Smith's Patent Reform Bill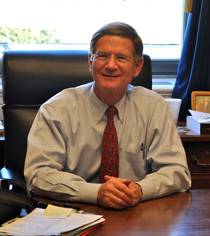 The House of Representatives today passed a bill sponsored by House Judiciary Committee Chairman Lamar Smith (R-Texas) that updates our patent system to encourage innovation, job creation and economic growth.
Much-needed reforms to our patent system are long overdue. The last major patent reform was nearly 60 years ago. H.R. 1249, the America Invents Act, implements a first-inventor-to-file standard for patent approval, creates a post-grant review system to weed out bad patents, and helps the Patent and Trademark Office (PTO) address the backlog of patent applications.
The House overwhelmingly approved the bill by a vote of 304-117.
Today's vote is a victory for America's innovators and job creators who rely on our patent system to develop new products and grow their businesses. The America Invents Act is the most significant jobs creation bill passed by Congress this year. No longer will American inventors be forced to protect the technologies of today with the tools of the past. H.R. 1249 brings our patent system into the 21st century, reducing frivolous litigation while creating a faster and more efficient process for the approval of patents.
The current patent system is broken. The average wait time for patent approval in the U.S. is three years. The PTO has a backlog of 1.2 million patents pending approval. Unwarranted lawsuits that typically cost five-million dollars to defend prevent legitimate inventors and industrious companies from creating products and generating jobs. And according to a recent media report, China is expected to surpass the United States for the first time this year as the world's leading patent publisher. In other words, the system intended to protect and promote new inventions has become a barrier to innovation and job creation.
American inventors have led the world in new technologies for centuries, from Benjamin Franklin and Thomas Edison to the Wright brothers and Henry Ford. But if we want to foster future creativity, we must do more to encourage today's inventors. This bill represents a fair compromise and creates a better patent system for inventors and innovative industries.
I look forward to working with the Senate to get a bill to the President's desk and finally seeing these important reforms enacted into law.
Intellectual Property Subcommittee Chairman Bob Goodlatte (R-Va.) also praised the passage of H.R. 1249.
---
Also read: Chairman Lamar Smith (TX-21) Discusses House Judiciary Committee Priorities