Houston ISD - Wage Theft and Bribery Allegations
Wage theft, payroll fraud, alleged bribery and Houston Independent School District (HISD). These are a group of phrases you really don't want to see in the same sentence. But, according to a recent blog post on Construction Citizen, HISD is the latest example of contractor's abuses of employees and theft of wages and other payroll abuses.
According to Construction Citizen, Marvin Mundo and Marciano Cruz are owed over $11,000 in wages from a contractor hired by HISD to do construction projects for Jane Long Middle School and Sharpstown High School. They have been owed this money for over a year.  The wages are owed by a contracting company owned by Ricky Peters, Lawman's Construction.  (Odd name for a company allegedly involved in theft and payroll fraud...)  Lawman's Construction was hired to do the construction project by Fort Bend Mechanical.
Attempts to collect the wages have been unsuccessful and recently the HISD Construction and Facility Services Department held a meeting to try and resolve the issue.  At the meeting, Peters admitted paying the employees in cash (were taxes withheld?) and promised to make up the owed amounts to Mundo and Cruz.  To date, these wages still have not been paid.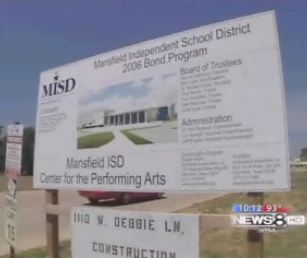 Earlier, I reported about a similar situation in the DFW area at a Mansfield ISD construction site. This story received a lot of coverage because of the involvement of WFAA TV 8 in the Dallas area. The Texas Workforce Commission is saying they are being more aggressive in enforcing workplace employment laws but lack of action by the Texas Legislature, in the last session, kept them from getting more teeth in these laws. I have been told there will be legislative hearings on this topic during the non-session year but so far, I have not heard of any scheduled hearings.
Problems with Fort Bend Mechanical and their subcontractors are even more troubling because of allegations recently reported by YourHoustonNews.com about alleged bribery allegations involving Fort Bend ISD. HISD Board Member Harvin Moore reportedly returned donations he received from Fort Bend Mechanical after the FBISD allegations came to light.
HISD spokesperson Ericka Mellon writes, "Moore reported that in October [2011] he returned a $2,500 campaign contribution he received in 2009 from Sharon Medford, co-owner of Fort Bend Mechanical. The Stafford-based construction company is being sued by a competing vendor who alleges Fort Bend Mechanical bribed HISD trustee Larry Marshall to land a school district contract."
Employee misclassification and wage theft hurt us all. Legitimate employers are forced to pay higher unemployment insurance because of the abuses of companies like Fort Bend Mechanical and Lawman's Construction.  Employees are hurt because of being ripped off by their employers but also because of being denied benefits because they are improperly misclassified.  Taxpayers are hurt because of increased medical costs because of these uninsured workers.  And, legitimate companies are put in an unfair competitive disadvantage by these types of companies.
Let your legislator know you want these illegal practices stopped. Let's get some good legislation passed in 2013 and start making a difference in people's lives.
Next Tuesday, March 20th, there will be a "Down with Wage Theft Rally" in downtown Houston.  It will be held at Hermann Square Park, 900 Smith Street from 4:30 to 7:00 pm.
---