Business Leaders Urge Immediate Immigration Solution for Essential Workers in Upcoming Budget Reconciliation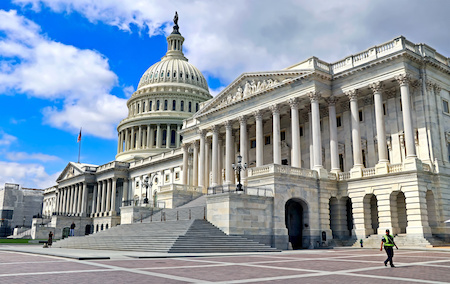 Texas business leaders, a DACA-recipient paramedic, and Houston area elected officials are urging Senate leaders to include immigration reforms in the upcoming federal budget reconciliation. Their message was released in a Houston press conference organized by the American Business Immigration Coalition (ABIC) on Thursday. Directed to the US Senate Parliamentarian, it makes the case that the Houston region relies on immigrants as workers and entrepreneurs. Moreover, there is an urgent fiscal and economic need for Congress to create common sense immigration solutions for Dreamers, farmworkers, Temporary Protected Status (TPS) recipients, and essential workers.  Arguments will be heard by the parliamentarian on Friday, September 10.
Jesus Contreras, DACA recipient and paramedic, said "I was one of those high school students who had the fortunate ability of passing a trade program. Mine was the EMT school offered through Lonestar College. Even though I passed the program, I couldn't become a certified EMT basically because I was undocumented. Fast forward to 2013, the Obama administration passed DACA and I was able to pursue my dream of becoming a paramedic. Shortly after that, I was involved in the rescue efforts of Hurricane Harvey, the February freeze, some of the Tax Day floods and different emergencies that have happened here in Houston. Today I'm working on the frontlines of the Covid-19 pandemic and the people it has infected. One struggle I'm seeing is we have a shortage of EMTs, paramedics, and healthcare staff. A lot of us are DACA recipients. A lot of us are TPS holders and immigrants. Who knows who's going to take that spot in the ambulance if I get deported. I urge Congress to finalize this bill, to get comprehensive immigration reform included in this bill."
Stan Marek, CEO, Marek Family of Companies, said "I'm an employer of construction workers...and we've never had a labor shortage in my fifty years like we're seeing right now. Ladies and gentlemen, we are missing a golden opportunity to take these kids who came for no cause of their own, and they can't get a job... A lot of the people in our industry want to recruit from the high schools, but if 30 or 40 percent are undocumented, they're not going to do it. We need a legal status for the kids getting out of high school so that they can enter a trade and get a good, legitimate job and pay taxes."
Juan Carlos Cerda, TBIC Director & ABIC Deputy Campaign Director, said "As a bipartisan coalition of 1200 CEOs and Employers, we strongly prefer bipartisan solutions, but despite many positive conversations with 41 Republican Senators, none have stepped forward to cosponsor existing bipartisan, stand alone bills like the Dream Act. If reconciliation is going forward, adding immigration is the only vehicle in sight. A New Poll shows that 67 percent of Americans support legalization, and that is why we urge Congress to include it in their reconciliation bill."
Houston Mayor Silvester Turner and Congresswoman Lizzie Fletcher joined the business leaders to underscore the Houston area's reliance on immigrants as workers and entrepreneurs and the urgency of enacting a solution now. 
Like many cities across the nation, Houston is facing worker shortages. At the same time, the city's 586,000 undocumented workers have a spending power totaling $9.8 billion and pay $1.2 billion in taxes annually. Passing common sense immigration solutions is crucial to boost the Houston economy, create jobs, ease the labor shortage, and support families.