Rational Middle on Immigration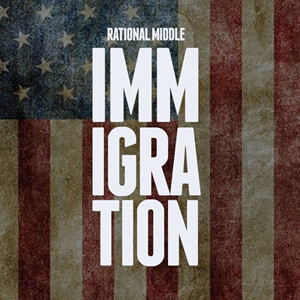 In the United States there is much debate over immigration, its effects, and what kind of policies will best serve our nation and its people. With a booming economy, the lowest unemployment rate in two decades, and an estimated 11 million undocumented immigrants in the United States today, our nation needs to reform its immigration system in a way that will allow us to increase law and order while maintaining economic growth, stability, and competitiveness.
Due to a shortage of labor and a dysfunctional immigration system, we now have a situation where many undocumented immigrants are exploited by unethical employers. For example, in the construction industry many subcontractors misclassify undocumented workers as independent contractors and pay them below the going rate of labor, and in cash to avoid taxes, both of which negatively impact wages for American workers and undercut the ethical American subcontractors competing with them. 
In order to stop this labor fraud and give American workers solid footing to compete in the labor market, we need a rational immigration solution that provides a way to properly ID and tax the illegal immigrants living and working in the US today. 
With the topic of immigration rising to the forefront of American politics, there have been false narratives promulgated by self-serving politicians and special interests on both sides of the political spectrum. Unfortunately, this has resulted in the polarization of this issue. This polarization may drive voters to the polls, but it has not produced constructive legislative solutions to our nation's broken immigration system.  
The best way to reach a viable solution for the betterment of Americans now and for future generations is to look at the facts and our nation's great history and meet somewhere in the middle. We must all work together to find the most effective response to today's immigration problems.
The Rational Middle of Immigration is a short film series by director Gregory Kallenberg and former Houston Chronicle columnist Loren Steffy that seeks to inform the general public, shape sensible policy solutions, and create a deeper understanding of this important issue by focusing on the challenges facing the country through the eyes of immigrants, municipalities, business owners, and citizens on the ground who find themselves confronted with this issue. 
Below are the first three Rational Middle of Immigration episodes. Subsequent episodes will be added to this page as they premiere. 
EPISODE 1: THE IMMIGRANT'S PROMISE:
What role does immigration play in our country's identity and economy, and how did it became illegal in the first place?
EPISODE 2: THE BURDEN OF A BROKEN SYSTEM:
There are many ways to quantify the costs and benefits of undocumented immigrants' burden on communities and the country — burdens on education, crime, and healthcare. But rarely do conversations include the price of border security and political capital expended on enforcing and debating the issue. These wind up costing our country time and money in unexpected ways. This episode will explore the both sides of the equation – revealing unseen benefits and detractors of undocumented immigrants and the opportunity that a better system promises.
EPISODE 3: IMMIGRATION'S CROSSROAD: REBUILDING AFTER HURRICANE HARVEY:
Following Hurricane Harvey in September 2017, Houston finds itself in the grips of a housing crisis. Even before the storm caused $9 billion in housing damage, the city was struggling through a workforce shortage in the construction industry. One solution: Allow Houston's 500,000 undocumented workers come out of the shadows to help rebuild the community, together.