Rational Middle Immigration Documentary Filmmakers Unveil Season One Finale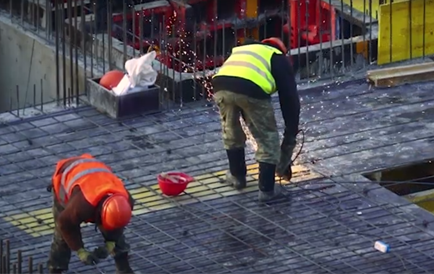 The filmmakers at The Rational Middle this week put a bow on the first season of their immigration documentary series, calling it a "holistic view" of the issue they hope will "inform the public, shape sensible policy solutions and create a deeper understanding of this important challenge."
"The two-part finale completes the ten-part premiere season with an unblinking look at the undocumented immigrant in America," the filmmakers said. "The two episodes (of the finale) interview some of the nation's experts about immigration reform and how to bring undocumented immigrants out of the shadows and into the nation's workforce."
"Immigration is currently the most important crisis facing our nation," said director and producer Gregory Kallenberg. "Through these films and the discussions that are energized by the films, our aim is to move the needle on this imperative discussion and help explain the immigration issue from a balanced perspective."
"The ultimate goal of the Rational Middle of Immigration is to create a foundation for a solution," Kallenberg said.
"If there's one thing that we know about the American economy, we need two things: We need the skilled engineer as much as we need the skilled farmworker. The innovation that we've built in the US over generations depends on a diverse workforce and an immigration system that provides a diverse workforce," said Ali Noorani, Executive Director of the National Immigration Forum. "As a nation, if we can find that balance, then we as a nation will continue to economically prosper. If we lean in one direction more than the other, our economy will move out of balance," he said, speaking in the films.
Stef W. Kight, a Reporter on Immigration, Data & Trends at Axios pushed back on the notion that immigrants are "stealing" jobs from Americans. 
"There are many that think that immigrants are hurting our chances of getting jobs," Kight said. "In fact, immigrants are boosting the economy and taking jobs that would otherwise go unfilled. They're working in our restaurants and our healthcare system, they're working in the fields and working construction, and to remove them would have a significant impact. Imagine millions and millions of workers suddenly disappearing."
"The idea that the entire undocumented population is here to do wrong and live some sort of criminal lifestyle is just simply not true," said Jorge Lima, Senior VP for Policy at the conservative group Americans For Prosperity.
"They are here to contribute," Lima said. "They're largely individuals who are living lives just like all of us are, going to work, taking their children to school, and coming home for a meal with their family. That is what they're here to do. It's why they risked everything to be here."
What kind of policy would make sense? 
"Can we take people who are here, who have been here for years, and give them a path to legal status if they can pass a background check, learn English, pay back taxes, go to the end of the line?" said Jeremy Robbins, Executive Director of New American Economy.
"Can we modernize our immigration system so that we're bringing in the workers that we need to make our economy dynamic, while ensuring we're protecting American workers, can we take control of our border and employment system to make sure hiring legally, that has overwhelming support among both parties in both houses of Congress," Robbins said.
"Providing this holistic view is what sets the Rational Middle of Immigration apart from other discussions currently taking place and could help us find some common ground in the immigration debate," said Executive Producer Loren Steffy.  
Take a look at the series finale below. You can see the entire series here. 
Season Finale, Part 1: Out of the Shadows: Undocumented in America
Season Finale, Part 2: The Golden Door: America's Way Forward