Republican Representatives Offer Proposals for Unauthorized Immigrants to Earn Legal Status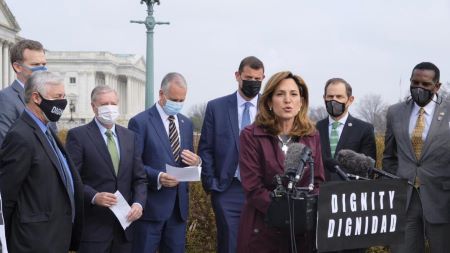 Republican US Representatives Maria Elvira Salazar and Carlos Gimenez have proposed two separate processes for unauthorized immigrants in the US to earn legal status. These lawmakers and their proposals provide a new roadmap for immigration reform that can obtain support from Republican lawmakers. 
Salazar's proposal would require unauthorized immigrants to pass background checks, pay back taxes, pay income taxes, and maintain employment. After 15 years of following the rules under conditional status they could obtain permanent legal status and apply for citizenship. Her proposal also includes border security, asylum, and guest worker reforms. 
Gimenez also supports creating legislation to allow unauthorized immigrants to obtain legal status. When it comes to obtaining citizenship, he proposes allowing these folks to apply for citizenship through their countries of origin while remaining in the US earning lawful status. 
"I support allowing undocumented immigrants to come out of the shadows and be placed on a path to legal status so that they can receive their work authorization, get a driver's license, and send their children to school," says Gimenez.
"Amnesty is unfair. I do not support blanket amnesty that gives undocumented immigrants citizenship. Any individual who wants to receive American citizenship and all the benefits that come with it should do it the lawful way, starting in their country of origin, and within the allocated quota system," he said. 
However, both Salazar and Gimenez have also stressed that legislation to improve border security will be an essential part of any immigration reforms. This echoes the sentiments of most Republican lawmakers who consider border security to be the starting point of any immigration bill that has a chance to get their votes, as illegal crossings at the southern border continued to increase in May. One border security bill that has already received bipartisan and bicameral support is the Bipartisan Border Solutions Act. Lawmakers should pass it immediately and move on to creating a legislative solution for DACA and a method for unauthorized immigrants to earn their legal status so we can ID and tax them properly. 
It is noteworthy that both of these freshman Republican Representatives in Florida won their elections against incumbent Democrats while supporting legislation for unauthorized immigrants to earn legal status. Salazar has stated that action on this area of immigration reform is a key issue for many of her constituents and the growing number of Hispanic voters. 
"I am a brown girl from the 'hood, who is a Republican, who is coming to tell my party that it's time to wake up and smell the votes," she said in February after a meeting with anti-immigration Republican policy advisor Stephen Miller. 
Perhaps Republican lawmakers and candidates in upcoming elections can follow these reps' lead and appeal to a larger number of voters by working to pass needed reforms to ID and Tax unauthorized immigrants and improve border security.  
US industries including construction, agriculture, service, and retail continue to be negatively impacted by workforce shortages.  These workforce shortages exacerbate price increases of common goods and services that are already going up due to inflation, impacting every American consumer. America needs its lawmakers to propose bipartisan and attainable immigration solutions to increase its legal workforce in order to encourage healthy economic growth.