Houston Young Republicans Take a Stand for Free Enterprise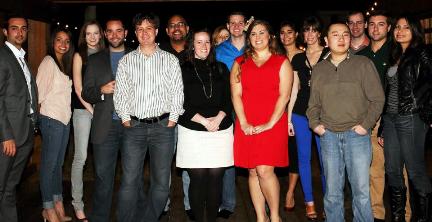 Houston Young Republicans
Acting on one of the core principles of conservatism, the Houston Young Republicans (HYR) are taking a stand on rolling back government regulations on small business.  This weekend, they will host the First Annual "Free Enterprise Crawfish Boil" in support of Texas Senate Bills 515-518.  These bills call for rolling back restrictions on small "craft breweries" to allow them to more fairly compete in the marketplace with the larger, traditional breweries.
Currently Texas law, backed by lobbyists from the major beer brewers, requires the smaller brewers to distribute their product through expensive distribution companies. This adds additional cost to the small brewers and allows the major brewers to marginalize the craft brewers attempts to grow their business and gain market share. Additional restrictions imposed by Texas law also limit the growth of these small brewers limiting job growth and free enterprise.
Below is an interview with HYRs president Jonathan Nessmith where we discuss the issues related to this and their event taking place on Saturday, March 9 in Houston (See event details below). The interview also discusses some of the history of the HYR including its reputation as being simply a "drinking club". Coincidentally, after conducting this interview, I had a discussion with one of the original members of HYR from the early 70s who explained where this reputation came from. Some of you may recall that it is only recently that Texas overcame outdated liquor laws and allowed "liquor by the drink" establishments. Prior to this change you could only get drinks in "private clubs". The Houston Young Republicans was one of the few private clubs in Houston at that time allowing liquor by the drink. HYR meetings at that time looked more like a night club event than a political meeting with attendance sometimes approaching 2000 people!
Now the night club version of HYR is long gone and the current club is much more serious about its role in educating the youth vote on conservative issues and Republican values. During the interview, I spoke with Nessmith about the 2012 election results and the fact that Republicans did very poorly with young voters. We discussed the issues that are important to the youth vote and how the HYR will reach out to those voters.
During the 2012 election, Republicans did poorly with young voters from ethnic groups that traditionally vote Republican. Second generation Asians and Cubans shifted their votes away from their parents traditional Republican vote. Young women overwhelmingly voted for Obama - even those with strong conservative values. The image of Republican candidates and overbearing and judgmental conservatives turned off many young voters. Nessmeth addressed this saying that Republicans dont need to change their values and prinicples, but should rather rebrand these values and market them differently. Is it time for a new "Republican Brand"?
This weekends crawfish boil will be held Saturday, March 9th from 11 a.m. till 4 p.m. at Jacksons Watering Hole. The address is 1205 Richmond Avenue in Houston. Sounds like a great opportunity to come out and meet the next generation of Harris County Republicans and learn more about stopping over-regulation of small businesses.