Save The Teachers, Reduce Administrators, Corruption and Wasteful Spending! Part II - Action Required!

A scant twenty two protestors including three MoveOn.org organizers waved their signs in front of Bill Brown Elementary in Bulverde, Texas on March 15. This is hardly a strong showing of teacher union sympathizers in Comal County. The MoveOn.org organizers, Sandi Root and Stephen Baird initiated the protests in Comal County while Paashka Powell collected names to add to the MoveOn.org calling roster. MoveOn.org is a very liberal organization regardless of what Root was quoted as saying in the Herald Zeitung that "this is a non-partisan issue". She tried to make it a "woman" issue by claiming that women are easy prey. The usual Socialist/Progressive mindset, always find a 'victim'.
I had only three questions that I asked "Are you a teacher"? "Do you know how much money your superintendent makes"? and "Do you live in Comal County?" Of the twelve people I spoke to not one knew the salary of their superintendent. Only two of the twelve were retired school teachers. One had taught at Winston Churchill High School and the other had been with El Eldorado Elementary school in the NEISD in San Antonio. A husband and wife team, David and Carol Smith, both were proud union members. David was wearing his CWA union tee shirt and Carol, a retired school teacher, was a member of the American Federation of Teachers, AFT. Carol did say that she understood that her superintendent made a "lot" of money. The most curious protestor was 75 year old retiree Dolly Schertz, a transplant from California. She was there she said, "To help the teachers keep their jobs". Two claimed to be parents with one being a parent of a Bill Brown student. Of the twelve, only six lived in Comal County. Most people have a good heart and want the teachers to keep their jobs. They just lack the knowledge of the severity of our Texas budget situation. The problem with the Progressive MoveOn.org is that they veil their true agenda.

Stephen Baird from MoveOn.org handed me a packet which included reading material from Texas Forward a group that will be marching to Austin next month asking for ALL the Rainy Day Fund. Governor Rick Perry and house leaders had agreed to use 3.2 billion dollars from the state's Rainy Day Fund just last week, but it seems it may be more of a battle than expected. If an agreement is not met a special summer session will be held. Texas Forward also wants ALL available federal funding. This federal funding goes back to the Lloyd Doggett Amendment which withheld 830 billion dollars from Texas students. A staunch supporter of Lloyd Doggett, John D. Hildreth, is a board member of Center for Public Policy Priorities. Some of the other members of the committee are Naomi Aberly an Obama lackey and Planned Parenthood supporter, past Democrat Lt Governor of Texas William P Hobby, Jr., and Martin Pena, president of the South Texas Schools Association from the Rio Grande Valley. The very interesting thing is that Texas Forward receives staff support from The Center for Public Policy Priorities.
The following information was from an article in the Monitor by reporter Ildefonso Ortiz. Pena, at a meeting held at the Armando Cuellar Middle School Library in February, declared that the financial situation was not the fault of the local districts. But turned around and said that 80% of the districts money went toward salaries. Humberto Cardenas, school board president of Weslaco ISD, announced teacher cuts would be through attrition. He also announced the cuts would run between 10 million – 18 million in his district. Mary Leal, member of the board of directors of the South Texas Independent School District, told the audience that Progreso ISD cuts would only be about 2.5 million dollars as they only had 3,000 students. State Rep Armando Martinez from District 39 was present to tell them his story of woe: that he was one of only 49 Democrats and the 'big bad' Republicans with 101 members were doing the hatchet job on the Texas budget. Big cry babies…Weslaco ISD superintendent Jose Ricardo Rivera with only 17,279 students makes $208,492, Donna ISD superintendent Roberto Loredo makes a mere $155,000 for 14,873 students and poor Progreso ISD superintendent Fernando Castillo makes $208,823 for 2,224 students. Where is the justice and the balance they speak of? These superintendents need to 'sacrifice' for the teachers they pretend they are crying for and cut their salaries. Hildago superintendants make over $3,000,000 in salary.
It is time that parents take back their school districts. Parents' involvement would certainly check some of the corruption that is currently engulfing some of our school districts. Please look at the Red Apple Project from Americans for Prosperity and check out Peyton Wolcott's website for corruption in the Llano ISD. There seems to be enough school district corruption because a TexasGOPVote blogger has discovered some in Lumberton ISD and others.
What happened to parents volunteering their time in assisting the office staff and teachers in the classroom? It is time that teachers ask some serious questions as to why they are not making the salaries they should and why are there so many support staff including all the security that surrounds the high schools in some districts. Have we regressed so much that we have to find fault with others before examining the true cause of the situation? Why are school districts out of control in their spending and corruption…because we have taken our eye off our schools? State Representative Erwin Cain from District #3 came out with a press release, Refocus on the Classroom, and has some sound advice. Our students deserve better!
Hope D'Amore a CIA combined information from Americans for Prosperity and from the Texas Education Agency. The superintendents in each Texas district are listed allowing us to see at a glance how much money they are absorbing, as 'they' like to say, "On the backs of our school children." The document attached gives in detail the county, district, student enrollment and the salary for the superintendent. Please share with friends, neighbors and particularly school teachers. These shocking amounts do NOT include the assistants or the office personnel. What is even more disturbing is the growing amount of 'police' surveillance at the high schools.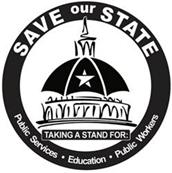 On April 6, 2011 Join TexasForward at SAVE OUR STATE for a massive March, Rally, and Advocacy Day at the Texas Capitol.
"The members of the Texas Forward coalition call on the Governor and Legislature to take a responsible, balanced approach to balancing our 2012-13 budget so Texas can move forward instead of taking a giant step back. Such an approach should include:
Use all of the Rainy Day Fund, estimated to have $9.4 billion available for spending in the 2012-13 budget. The constitutional purpose of the fund is to maintain vital state services during economic downturns. 
Maximize use of all available federal funding. 
Create new sources of revenue that are equitable and can grow along with the growth in need for public services, for example, eliminating unwarranted tax exemptions."
http://www.txforward.org/whoweare/ourmembers.html
TEXAS FORWARD
Currently Texas Forward receives staff support from the Center for Public Policy Priorities. The staff member is responsible for convening the steering committee, providing logistical and administrative support for the coalition at-large, and communicating with national partners that work on state revenue issues. 
Members 
Naomi Aberly, Civic Leader, Dallas  
Naomi Aberly has been active in more than a dozen civic and political organizations, including Obama for America and Annie's List. She is a fundraiser for Democratic candidates at all levels. She currently serves on the board of Planned Parenthood of North Texas and is the current chair of their capital campaign, and she is a former board member of the Texas Association of Planned Parenthood Affiliates. According to BarackObama.com she was on the 2008 OBAMA PRESIDENTIAL NATIONAL FINANCE COMMITTEE 

John Hildreth, President, IssueLink, Austin

http://www.campaignmoney.com/political/contributions/john-hildreth.asp?cycle=08

http://www.campaignmoney.com/political/contributions/john-hildreth.asp?cycle=10

William P. Hobby, Former Lt. Governor of Texas, Houston

Democrat Lt Governor served for 18 years -1973 – 1991 

Martin Peña, President, South Texas Schools Association, Rio Grande Valley
American Federation of Teachers, AFL-CIO
The American Federation of Teachers, an affiliate of the AFL-CIO, was founded in 1916 and today represents 1.5 million members in more than 3,000 local affiliates nationwide.
Five divisions within the AFT represent the broad spectrum of the AFT's membership: pre-K through 12th-grade teachers; paraprofessionals and other school-related personnel; higher education faculty and professional staff; federal, state and local government employees; and nurses and other healthcare professionals. In addition, the AFT represents approximately 80,000 early childhood educators and nearly 250,000 retiree members.
The AFT is governed by its elected officers and by delegates to the union's biennial convention, which sets union policy. Elected leaders are Randi Weingarten, president; Antonia Cortese, secretary-treasurer; Lorretta Johnson, executive vice president; and a 43-member executive council.
Current AFT Legislative Action Campaigns
Urge your senators to protect students from fraud and abuse at for-profit colleges.
Ask your representative to protect education for all children in the world.
Contact your representative and urge him or her to vote NO on legislation to repeal the healthcare reform law.
Urgent appeal to President Obama: Use your leadership to protect education for all children in the world.
Tell Congress to STOP the HATE and the criminalization of immigrants.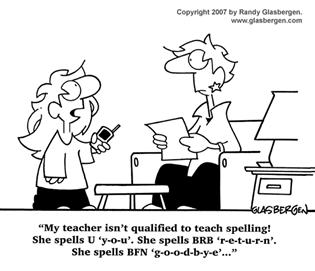 Teachers protest proposed cuts to education
By SOMMER INGRAM, Associated Press
AUSTIN, Texas (AP) -- More than a thousand teachers are protesting at the state Capitol against more than $10 billion in proposed cuts to public education.
A high school marching band started the rally and protestors carried blue umbrellas to signify the need to spend the state's Rainy Day Fund. Lawmakers must find a way to close a $27 billion budget shortfall and a draft budget could lay-off 100,000 teachers.
That's about a third of the state's public school teachers. Monday's rally led by the American Federation of Teachers follows a similar march on the Capitol on Saturday. More than 5,000 parents, students and teachers called on lawmakers to tap the $9.4 billion Rainy Day fund and end a dispute over $883 million in federal stimulus funds.
CONTACT YOUR SUPERINTENDENT CONTACT YOUR SCHOOL BOARD
Tell them to 'sacrifice' for the sake of our school children!!
Send this report to your state representative
Stand with Governor Rick Perry!
---
Save The Teachers, Reduce Administrators, Corruption And Wasteful Spending! Action Required!