Houston PD Homicide Div. Under Investigation For Undisclosed Reasons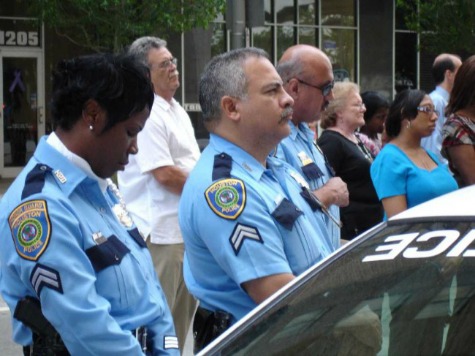 The Houston Police Department (HPD) announced this week, an internal investigation into its Homicide Division. With few details about the investigation, who it involves or what it is about, HPD Chief Charles McClelland revealed he has ordered an internal affairs investigation of the homicide unit after someone raised a question regarding "some policy and procedure issues surrounding an investigation."
Pending the outcome of the internal investigation, Chief McClellan responded to reporters saying the he could not provide any additional details on the nature of the allegations that prompted the internal probe.
During a press conference conducted by Houston Mayor Annise Parker, reporters asked her about the investigation of the homicide division. Mayor Parker responded, "It's unfortunate whenever any city employee fails to do their job. But there is an ongoing IAD (Internal Affairs Division) investigation so I can't really comment until they get to the end of their investigation process."
A reporter asked about the public perception impact of the prospect that a homicide occurring and it not being worked up properly. He asked how that might impact public trust and confidence in the police department. Mayor Parker firmly responded, "It destroys it. There's no other nice way to say that. Now, I don't know that that's what happened. And we don't know that that's what happened until they get to the end of their investigation. But it's broader than that," Mayor Parker continued, "because a homicide investigator, that's the elite of the police department. Those are the guys that have risen up out of the pack, who have proven themselves, we hope, competent and capable of taking on the most important job that the police department does and that's investigating the taking of human life.And so, if it is true that there have been problems in failure to investigate, it will have shockwaves throughout the department."
According to a report in the Austin American Statesman, Houston Police Officer's Union President Ray Hunt confirmed that one officer has been relieved of duty. However, he emphasized that being relieved of duty is not a form of disciplinary action by the police department. The union has provided the police officer with an attorney for representation.
The Statesman report continues, "I am not at all concerned with the integrity of the Houston Police Department homicide division," he said. "I have the fullest confidence in everybody over there." Hunt pointed to the homicide division's clearance rate as a sign of its success.
While the national average for homicide unit clearance rates is less than 70 percent, Hunt said the Houston unit had a clearance rate of more than 70 percent in 2012, about 76 percent in 2013 and a clearance rate of more than 80 percent in January. The Houston Police Department did not respond to a request for more information from Breitbart Texas. However, the Statesman article quotes HPD Chief McClelland, "I want to be able to say at the conclusion of this investigation what our findings were, what corrective actions were taken, how and if anything happened that was a violation of department policy and why it will never happen again."
---