MLK MARCH 'I HAVE A DREAM' HIJACKED San Antonio, TX 2014
Bill and I attended the 27th Annual San Antonio MLK March on January 22, 2014. It was a good day for a march and a perfect day for photographing. It was estimated that 175K people participated in the Alamo city's event. With so many people, it is logistically impossible to be everywhere, but to me it was a photographer's paradise. I did manage to capture that one great image with Leticia van de Putte and Wendy Davis locked arm and arm on the front row of the VIPs.
The marchers did not reflect the diversity of the people in San Antonio. With an estimated population of 1,382,951, and the black alone population at 6.5% or 88,547 it was obvious that there must have been plenty of out of town guests. Hispanics which are the majority at 62.5% and white alone at 27.4% did not have a true representation.
The friendly faces and thousands of marchers have not changed but the theme certainly has. Even though Martin Luther King's name was mentioned along with a sprinkle of his quotes, the march seemed to have lost its way from MLK's legacy. The words that struck me coming from the PA system were unify, unification, and education.
This year the MLK March looked more like a union parade with the AFGE, AFL-CIO San Antonio Central Labor Council, Sheetmetal Workers International, Transport Union of America, Texas State Employees Union, and SEIU of Texas, to name a few of the unions, that walked the 2.7 mile route. The words unify and unification complemented the union representatives marching. How can HEB ever forget the grapes boycott? The National Farm Workers Association, NFWA's flag whipping in the wind was reminiscent of the grape protests in the valley and elsewhere in Texas during the early 1980's. Strange as it may seem, HEB and NFWA marched in the same 'parade'. Leading up to the MLK March was a Civil and Human Rights Conference. The conference focused on unions.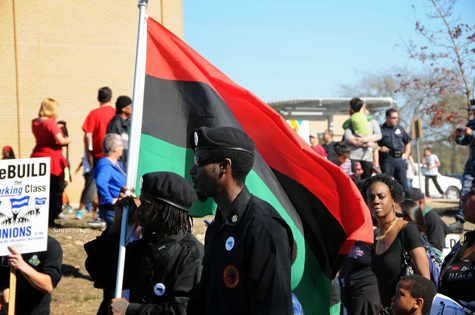 The new Black Panthers were also among the marchers, and I was curious about what could they possibly bring to San Antonio: violence, hatred, voter fraud? King received the Nobel Peace Price in 1964 after he had delivered his 'I Have a Dream' speech. So the participation of the Black Panthers was a total contradiction of MLK's peaceful legacy.
Other notable contradictions were the LGBT and the Esperanza Justice Center. The PRIDE banner had a quote from MLK. "Our lives begin to end the day we become silent about the things that matter." I'm sure that this is not the interpretation that King had in mind because he was an ordained Christian minister and believed in conservative principles. The Esperanza Center, active in all things against Christians, is making a mockery of the image of Our Lady of Guadalupe. They walked with a large banner of Our Lady next to their Esperanza banner the entire two plus miles. The ignorance they demonstrate is impossible to comprehend since Our Lady of Guadalupe is the patroness of the unborn and the Esperanza Justice Center is pro abortion and an advocate for same sex marriage.
San Antonio based companies, USAA and HEB were the largest marching groups followed by ATT and Nation Wide Insurance. Other sponsors were Marriott, Westin, Coca Cola, and Toyota. I wonder if it has occurred to the companies that depend on labor that sooner or later the unions are going to impact their very existence.
The Sisters of Divine Providence walked the route with a banner that said, 'End the Violence'. The one ray of sunshine came from the San Antonio Family Association towards the end of the march. Volunteers carried their banner with the slogan, 'Kids need a Mom & Dad'.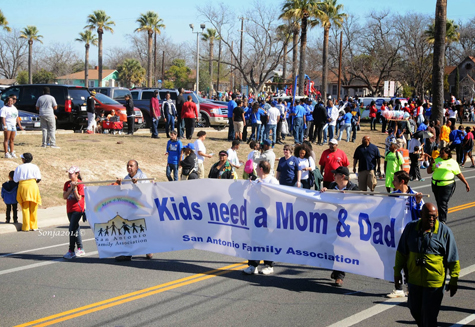 The march was also a place for the politicians to wave their election or reelection signs, Nelson Wolf, Tommy Adkisson, Therese Huntzinger once a Republican and now a Democrat, Nico La Hood and Carlo Key were among the many Democrats who chose to use this occasion for their personal political aspiration. County Judge Wolf could not praise Obama enough. He said he was going to help Councilwoman Ivy Taylor to fix the East Side and he and the Democrats were going to pass Medicaid expansion to give everybody a chance. He is in a hot primary battle against Adkisson to keep his seat so he had to promise anything and everything to the East Side which is Adkisson's district. It was Leticia van de Putte who introduced Davis as her 'sister' to the crowd.
WENDY DAVIS one minute address to the crowd:
Dr. Martin Luther King Jr, Dr. King said something so many things that were so powerful that something that really sticks with me. He said, 'you know we talk about people pulling themselves up by their bootstraps but it's cruel to talk about telling someone to pull themselves up by their bootstraps when they don't even have any boots on their feet to wear. That's what this community understands and has embraced and done such a beautiful job of. Understanding that those boots come in the form of opportunity and that opportunity comes in the form of education. San Antonio is leading the way making sure that every child, every child who wants to make an education part of their world can do it, starting from pre K all the way up. And we will prove San Antonio is proving that the life and the legacy of Dr. King's message that where you start should have nothing to do with how far you can go. Congratulations San Antonio on this beautiful event!
I believe the quote is, "It's all right to tell a man to lift himself by his own bootstraps, but it is cruel jest to say to a bootless man that he ought to lift himself by his own bootstraps." Black people needed jobs during the Civil Rights movement as they do today and that is what Davis forgot to mention, jobs. It is her brand of education that she is pushing.
All the talk before the march was meant to get you thinking about unifying and how opportunity had somehow missed the black community and how the Democrats were going to save everyone in the East Side of San Antonio. Democrats were abundant and Republicans were scarce. Where were the Republicans? It's not enough to talk the talk but we need to walk the walk. Regardless this was supposed to be about honoring a civil rights hero and not a union parade. Flashes of Detroit went through my mind with each passing union banner. If any of you believe that this was an uneventful march, think again. The transformation of San Antonio and Texas is happening in plain sight and no one is paying attention. The Express News doesn't mention the unions and the photographers are wearing rose colored glasses.
RED SONJA2014©
Pray, Fight, Never Give up!
AFL-CIO 2014 Dr. Martin Luther King Jr. Civil and Human Rights Conference
http://www.aflcio.org/Issues/Civil-and-Workplace-Rights/Annual-King-Day-Observance/2014-Annual-King-Day-Observance-Agenda