Liberty has a New Address in Austin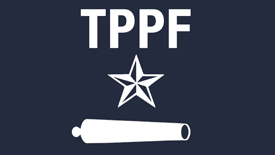 Last week in Austin the Texas Public Policy Foundation (TPPF) celebrated the groundbreaking on its new headquarters building that will sit at 901 Congress Avenue, a few short blocks (just over 300 yards) from the Texas Capitol.
Their slogan "Liberty has a New Address," is perfect.
In TPPF's short 25-year history it has grown from a small 4 person shop with a very tiny bank account, into the premiere state-based think tank in the country, with nearly 40 employees, and a new $19.5 million dollar headquarters on its way. TPPF is the leader among state-based think tanks around America, just as Texas is the recognized leader in liberty, prosperity and free markets in the United States.
But the really important news about TPPF for genuine conservatives who love the ideas of liberty, individual responsibility and free enterprise, is that we in the state of Texas have an unparalleled source of serious analysts dedicated to translating those concepts into practical and workable policies that our state legislature can study and adopt. That is the reason for TPPF's existence.
It is hard to imagine that a groundbreaking event can be a moving and heartwarming event, but it was. Each speaker, including President & CEO Brooke Rollins, Board Chair Dr. Wendy Gramm, Heritage Foundation chief economist Stephen Moore, Attorney General Greg Abbott, TPPF Founder Dr. James Leininger and Commissioner of Education Michael Williams spoke eloquently not about personal goals or political ambitions, but about the more noble and transcendent ideas like love of liberty, and the determination to protect the rights and freedoms of the individual from the always present potential for growth in big government at the expense of liberty.
Lawmakers in Austin have to get how-to policy ideas from somewhere, and sometimes get them from other states or organizations, but often they turn to the policy thinkers at TPPF. There is incalculable policy experience and expertise, and intellectual horsepower, at TPPF. And fortunately it is all on the side of liberty and free enterprise. Bringing that brilliance to bear on the issues Texas and America face today will undoubtedly bless Texas for decades to come.
Supporting TPPF makes you feel like you are part of something so much bigger and more important in Austin than the mere political scene. Check out their website for just a hint of the high caliber work they do in tackling a broad range of issues. You will leave that website a better informed American, and Texan.