Mayor Julian Castro and His Gay Agenda
San Antonio City Council Governance Committee
Ivy Taylor District 2, Diego Bernal District 1, Chris Medina District 5, David Medina District 7
CHAIR Mayor Julian Castro May 21, 2013
The lethal tentacle of Obama has hit San Antonio and his name is Julian Castro, mayor of the city and a Catholic. We have all heard the stories of his glorious rise to fame as keynote speaker at the September 2012 Democrat National Convention where he loudly and proudly stood before the delegates and proclaimed his commitment to same sex marriage. "When it comes to letting people love who they want to love and marry who they want to marry, Mitt Romney says NO."
Castro was the first San Antonio mayor to serve as the Grand Marshal to the pride parade in July 2009. In January 2012, Castro posted to his Facebook page, "Today I proudly joined the mayors of Houston, Austin, New York, Chicago, Boston, Los Angels and more than 60 other American mayors of cities big and small in support of the 'Mayor for Freedom to Marry' petition for same-sex marriage equality."
He also endorsed Obama's support of same sex marriage in May 2012 by saying, "I applaud the president's recognition that gays and lesbians should not be treated as second-class citizens with regard to marriage. I don't think this is about getting re-elected, this is about what is morally right."
At the Governance meeting on Tuesday, May 21 in San Antonio, Texas discrimination in the workplace was discussed. The committee discussed an ordinance that would make it unlawful to discriminate against gays and lesbians. Councilman Diego Bernal, District 1 did say it would not affect religious institutions. So why is there going to be a Human Rights Commission to hear complaints? Castro stressed that San Antonio would not be the leader in this cause because so many other Texas cities have similar laws. Supposedly it was Councilman Bernal that proposed the ordinance, but it was Castro who made it very clear that the ordinance would pass. He verbally said this even before the votes from the council members are counted and even before a draft of the ordinance is in the hands of the council members. Castro is determined to bring the gay agenda to the citizens of San Antonio. Michael Bernard, attorney for the city, will prepare a draft of the ordinance.
Other members of the committee wanted the ordinance to go at a slower pace to give them time to hear from their districts. If you live in San Antonio or have a relative or friend contact your councilman and let him/her know if you want this added to the already established anti-discrimination ordinance.
I spoke to several people at the meeting and here is what they had to say: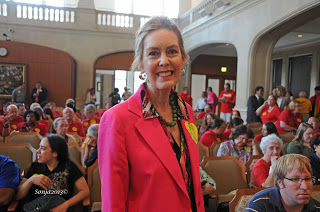 Dr. Jill Thrift
DR. JILL THRIFT: I am an early childhood educator from San Antonio. I have been an educator for 40 years and I have a desire to see in our city marriage and children protected. And that is why I am here today. The opposition is interested in upholding their human rights. I am concerned for the rights of the child. Every child has a right to a mommy and a daddy. And which one does he/she not need?
AL NOTZON: I think it is always important when public policy is being discussed to make sure that as we look at proposals that we look past the words that are being said and say, how will it affect us? Will it affect our ability to in fact, practice our faith. Will it have an impact that says you have to provide services that go against your moral beliefs? Does it change the culture of our community away from God and more towards the service of the individual beliefs and individual desires and individual wants rather than a spiritual base? This city was founded with a mass on the Feast of St. Anthony. We have always been dedicated to our Lord and this begins to pull us away from the tenets of our faith. The question has got to be should public policy be going against the principles of our faith?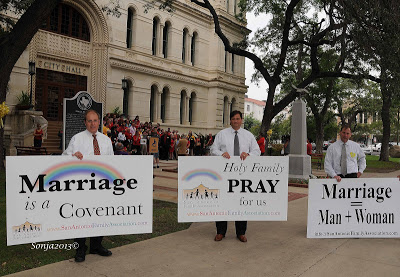 San Antonio Family Association
FAIRNESS AND EQUALITY
PRICILLA FERNANDEZ: I am actually here to help represent the youth of San Antonio, I have a 17 year old gay son. And because of the challenges that I have seen him go through and some of my other friends that are my age I feel that we have a right to have equality in the city of San Antonio especially for our youth that is why it is so important to me to push equality.
STANDING ON THE SIDE OF LOVE
DONNA REED: My opinion is that love is a universal and equal thing for everyone and we stand on the side of love because love overshadows everything else. It is a basic right to love. Homosexuals are people and they love and that is pretty simple.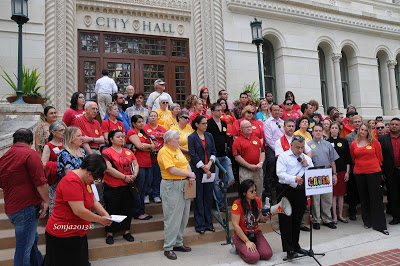 CAUSA Community Alliance for a United San Antonio – Fairness Equality
I spoke to Pat Rodgers Director of Communications for the San Antonio Archdiocese via phone. He related to me that he had received a notice either late Monday or early Tuesday from the committee with very little information to make a statement in behalf of the Archdiocese. The material that Rodgers received was information stating that Councilman Diego Bernal from District 1 would be requesting consideration of an ordinance that would:
Consolidate the city's current anti discrimination policies in the city code
Extend the list to protected categories in the policies to recognize sexual orientation gender identity and veteran status. Upon the updated policies to reflect the current state of the law and best practices.
Rodgers told me that, "We are eager to get more information and when we have enough and feel satisfied then we will see what we need to do at that time. The best thing for us is to continue to ask for more information and study it closely and see if a response is necessary."
San Antonio is fast becoming a mecca for the homosexual somewhat like San Francisco. The wait and see attitude of the Archdiocese is a bit worrying. While Rodgers may be right about the little information released to his office, he has to know that Julian Castro and Obama walk in step. That Obama refuses to protect the Defense of Marriage Act should be very alarming to the Archdiocese. What makes anyone think that San Antonio will be spared from the perversions and pressures of the homosexual? If you have never seen a San Francisco style gay pride parade then brace yourself, it's coming to San Antonio quicker than you think! Is same sex marriage just around the corner?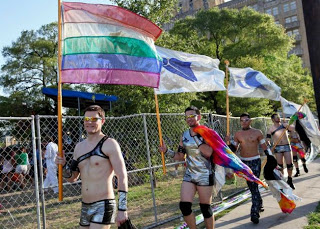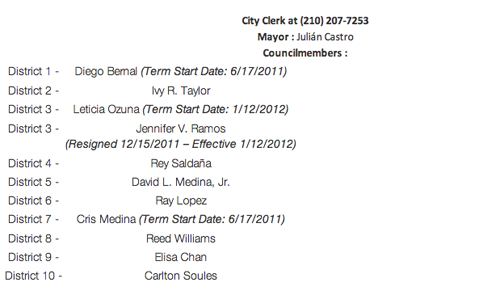 Castro stumps for marriage equality, Jan 25, 2012
http://sacurrent.com/news/the-queque-castro-stumps-for-marriage-equality-plastic-bag-reduction-sagging-active-duty-military-suicides-jump-1.1262123
Mayor Castro backs Obama's gay marriage endorsement May 9, 2012
http://www.mysanantonio.com/news/politics/article/Mayor-Castro-backs-Obama-s-gay-marriage-3547036.php