My C-SPAN Interview (Video)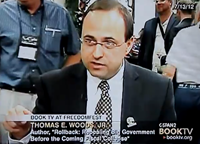 Here's my short conversation with Peter Slen, who interviewed some authors while covering FreedomFest in Las Vegas this year. C-SPAN has been covering events of mine for nearly eight years now.
Bear in mind that the audience for this interview is regular America. Particularly in light of that, I'm quite pleased with how it came out.