Senator Ted Cruz Speaks to a Packed House of Nearly 2,000 at King Street Patriots (Full Speech Video)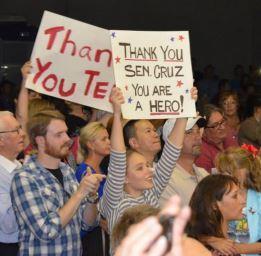 There is no doubt about it. Ted Cruz has achieved rock star status here in Texas after his work in Washington D.C. earlier this month to try and defund ObamaCare. On Saturday, Cruz spoke to over 1,000 screaming Texans at the Texas Federation of Republican Women with chants of "We love you Ted!" On Monday night, Cruz packed the house at King Street Patriots for a crowd of nearly 2,000 including over 500 in the spillover area set up in the parking lot. And then, last night, Cruz packed the house again in Arlington, Texas where over 1,500 people gathered to say "Welcome Home!"
Fortunately, for all of us, Cruz opened his speeches by promising not to speak for over 21 hours - a remark that brought lots of laughter from the packed and overheated crowd in Houston. "After a month in Washington," Cruz stated, "it is great to be back in America!" I would say that comment got a standing ovation, but in Houston, most of the chairs were taken out to make more room and everyone was on their feet already!
Sen. Ted Cruz with Board of TFRW in San Antonio
For those who missed it at one of these locations, or for those who can't live without seeing it again, King Street Patriots has made the video of their event available for viewing.  Enjoy...
Photos from the Monday night event in Houston are avaiable in my Facebook Album.
Photos from the Saturday event with the TFRW are also available in this TexasGOPVOte Facebook Album.